COVID-19 Reveals Europe's Strategic Loneliness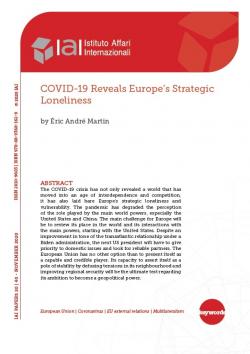 The COVID-19 crisis has not only revealed a world that has moved into an age of interdependence and competition, it has also laid bare Europe's strategic loneliness and vulnerability. The pandemic has degraded the perception of the role played by the main world powers, especially the United States and China. The main challenge for Europe will be to review its place in the world and its interactions with the main powers, starting with the United States. Despite an improvement in tone of the transatlantic relationship under a Biden administration, the next US president will have to give priority to domestic issues and look for reliable partners. The European Union has no other option than to present itself as a capable and credible player. Its capacity to assert itself as a pole of stability by defusing tensions in its neighbourhood and improving regional security will be the ultimate test regarding its ambition to become a geopolitical power.
Paper presented in a joint webinar on transatlantic relations by the Istituto Affari Internazionali (IAI) and the Deutsche Gesellschaft für Auswärtige Politik (DGAP), organised in cooperation with the Italian Ministry of Foreign Affairs and International Cooperation, the Compagnia di San Paolo, the Friedrich Ebert Stiftung (Rome Office) and the US Embassy to Italy on 5 November 2020.

iaip2040.pdf
Details

Rome, IAI, November 2020, 20 p.

In:


Issue

20|40

ISBN/ISSN/DOI:

978-88-9368-162-9
Introduction
1. A less secure and predictable world for Europe
1.1 Four main features of Europe's post-COVID predicament
1.2 Public and elite perceptions of Europe's post-COVID predicament
1.3 Europe's feeling of abandonment
2. The right balance between state, EU and international cooperation
2.1 Nation states remain a powerful bulwark to address challenges
2.2 The EU, an actor by default?
3. Revisiting Europe's place in the world
3.1 Strengthening "open strategic autonomy" and resilience: The political challenge
3.2 Keeping a leading position in innovation and technology: The geo-economical challenge
3.3 Stability in the neighbourhood: The geopolitical challenge
Conclusion
References