COVID-19 and the Foreign Policy Perceptions of US Public and Elites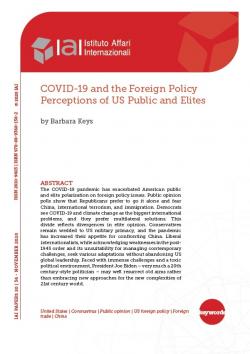 The COVID-19 pandemic has exacerbated American public and elite polarisation on foreign policy issues. Public opinion polls show that Republicans prefer to go it alone and fear China, international terrorism, and immigration. Democrats see COVID-19 and climate change as the biggest international problems, and they prefer multilateral solutions. This divide reflects divergences in elite opinion. Conservatives remain wedded to US military primacy, and the pandemic has increased their appetite for confronting China. Liberal internationalists, while acknowledging weaknesses in the post-1945 order and its unsuitability for managing contemporary challenges, seek various adaptations without abandoning US global leadership. Faced with immense challenges and a toxic political environment, President Joe Biden – very much a 20th century-style politician – may well resurrect old aims rather than embracing new approaches for the new complexities of 21st century world.
Paper presented in a joint webinar on transatlantic relations by the Istituto Affari Internazionali (IAI) and the Deutsche Gesellschaft für Auswärtige Politik (DGAP), organised in cooperation with the Italian Ministry of Foreign Affairs and International Cooperation, the Compagnia di San Paolo, the Friedrich Ebert Stiftung (Rome Office) and the US Embassy to Italy on 5 November 2020.

iaip2036.pdf
Details

Rome, IAI, November 2020, 21 p.

In:


Issue

20|36

ISBN/ISSN/DOI:

978-88-9368-158-2
Introduction
1. Post-COVID public perceptions of US foreign policy
2. Post-COVID elite perceptions of US foreign policy
2.1 The future of US global leadership
2.2 What is security?
2.3 Trade and globalisation
2.4 Relations with China
Conclusion
References