Collapse and Rebirth of Cultural Heritage. The Case of Syria and Iraq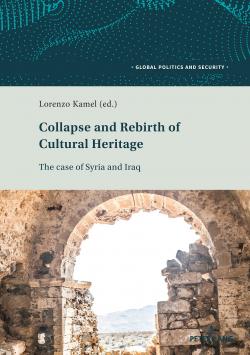 Cultural heritage and illicit trafficking in the Middle East are two key topics of our time. The book sheds light on both aspects, and identifies the need to democratize cultural heritage, by giving greater control to local communities. It also investigates the link between local hotbeds of conflict and violence in countries such as Syria and Iraq, as well as war economics, transnational criminal networks and the politics of deliberate destruction and theft of cultural heritage. Finally, the chapters analyze the impact of non-violent and violent non-state actors, fragile states, forced migration, environmental degradation, as well as how local and international institutions have reacted to the dramatic events which the region and its inhabitants have experienced in recent years.
Volume produced in the frame of the New-Med Research Network.
Details

Bern [etc.], Peter Lang, 2020, 174 p. : ill.

Issue

6

ISBN/ISSN/DOI:

978-3-0343-4127-1; 978-3-0343-4135-6 (pdf); 978-3-0343-4136-3 (ePub); 10.3726/b17248
Foreword / Ettore Greco and Nicolò Russo Perez, p. 9-11
Introduction / Lorenzo Kamel, p. 13-15
1. The Steep Cost of Destabilizing Iraq and Syria / Elijah J. Magnier, p. 17-43
2. The Reconstruction and Recovery of Syrian Cultural Heritage. The Case of the Old City of Aleppo / Francesco Bandarin, p. 45-77
3. The Italian Response to the Cultural Heritage Emergency in Iraq / Stefano de Martino, p. 79-90
4. Space, Time and People: How the Destruction of Mosul's Heritage Reshaped the Future of the People / Omar Mohammed, p. 91-128
5. The Role of Academia in Enabling the Illicit Antiquities Market: The Damage to Iraq's Cultural Heritage / Abdul Salam Taha, p. 129-153
6. Cultural Heritage as a Process of Accumulation: The 'Paradigm of Gilgamesh' / Lorenzo Kamel, p. 155-168
Contributors, p. 169-170
Abbreviations, p. 171-172