Civili in missione: l'esperienza italiana nelle missioni dell'Unione europea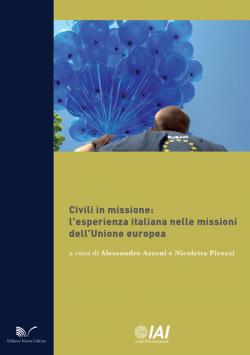 Civilian approaches and instruments are taking on increasing importance in conflict prevention and crisis management. The civilian missions of the European Union have become one of the most significant tools, contributing to the containment or the solution of crises in different areas. This volume offers a useful overview of EU civilian missions and Italy's contribution to them. The historical background and analysis of institutional and legal aspects provide for a solid understanding of the ongoing dynamics between Brussels and Rome of mission management, the effectiveness and efficiency of the fieldwork, the recruitment and training of personnel, and the future prospect of these types of interventions. The pros and cons of European civilian crisis management are examined and presented in a clear and open manner, together with a list of policy recommendations. The last section of the book addresses young professionals interested in taking part in EU missions, describing the application procedures and the real job prospects for those who aspire to becoming an expert in this field.
This book contains the highlights of the debate and summarizes the recommendations of the seminar "Civili in missione. L'esperienza italiana nelle missioni dell'Unione europea", held in Rome on 17-18 December 2015 in the framework of the "Farnesina Open Doors" programme. The seminar was organised by the Italian Ministry of Foreign Affairs and International Cooperation, in collaboration with the Istituto Affari Internazionali (IAI).

civili_in_missione.pdf
Autori, p. 7
Lista degli acronimi, p. 9-10
Prefazione, di Alessandro Azzoni e Nicoletta Pirozzi, p. 11-12
1. L'Italia e le missioni civili dell'Unione europea, di Alessandro Azzoni, p. 13-20
1.1 Che fare delle missioni Psdc?
2. L'Unione europea e la gestione civile delle crisi, di Nicoletta Pirozzi, p. 21-34
2.1 Strutture
2.2 Meccanismi
2.3 Capacità
2.4 La gestione civile delle crisi dell'Ue sul campo
2.5 Prospettive
3. Operatività ed efficacia delle missioni civili dell'Unione europea, di Cristiana Carletti, p. 35-44
3.1 Una ricostruzione complessiva della base giuridica e della configurazione concettuale ed operativa della missione Psdc nel Trattato di Lisbona
3.2 Le missioni Psdc dell'Unione europea
3.3 Alcuni fattori-chiave per una valutazione dell'efficacia delle missioni Psdc dell'Unione europea
3.4 Le missioni Psdc: quali prospettive per il futuro?
3.5 Considerazioni emerse dal gruppo di lavoro
4. Le missioni civili dell'Unione europea: le sfide per la formazione ed il reclutamento, di Andrea de Guttry, p. 45-55
4.1 La formazione del personale delle missioni civili
4.2 Il reclutamento
Considerazioni conclusive
5. Il futuro della gestione civile delle crisi dell'Unione europea: riflessioni e raccomandazioni, di Lorenzo Vai e Bernardo Venturi, p. 57-68
5.1 Gruppo di lavoro 1: Operatività ed efficacia: catena di comando, struttura, mandato, impatto e coordinamento delle missioni
5.2 Gruppo di lavoro 2: Nuove opportunità, reclutamento e formazione
6. Come si diventa un esperto civile? Procedure e prospettive, di Alessandro Giovine, p. 69-74
Appendice: Lista delle missioni civili Psdc in corso e contributo dell'Italia, a cura di Lorenzo Vai, p. 75-76
Bibliografia essenziale, p. 77-80