Challenges to European Security: A Transatlantic Perspective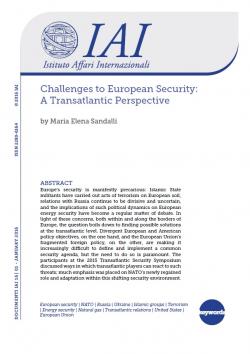 Europe's security is manifestly precarious: Islamic State militants have carried out acts of terrorism on European soil, relations with Russia continue to be divisive and uncertain, and the implications of such political dynamics on European energy security have become a regular matter of debate. In light of these concerns, both within and along the borders of Europe, the question boils down to finding possible solutions at the transatlantic level. Divergent European and American policy objectives, on the one hand, and the European Union's fragmented foreign policy, on the other, are making it increasingly difficult to define and implement a common security agenda, but the need to do so is paramount. The participants at the 2015 Transatlantic Security Symposium discussed ways in which transatlantic players can react to such threats; much emphasis was placed on NATO's newly regained role and adaptation within this shifting security environment.
Report of the eigth edition of the Transatlantic Security Symposium "Challenges to European Security: A Transatlantic Perspective" organised in Rome on 26 October 2015 by the Istituto Affari Internazionali (IAI).

iai1601.pdf
Details

Roma, IAI, January 2016, 19 p.

In:


Issue

16|01
Introduction
Session I. Fight Against Terrorism: How to Deal with ISIS?
Session II. Dealing with the Ukrainian Crisis: a Transatlantic Strategy?
Session III. NATO and European Security: Back to the Roots?
Session IV. Dealing with Uncertainty and Volatility: Challenges and Opportunities for Europe's Energy Security
Conclusion
Conference Programme