Can Digital Currencies End Financial Exclusion in Indonesia? Economic Realities and Policy Ambitions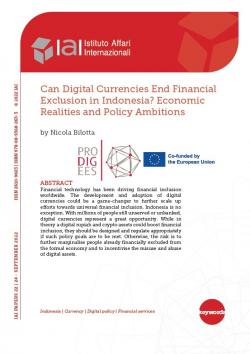 Financial technology has been driving financial inclusion worldwide. The development and adoption of digital currencies could be a game-changer to further scale up efforts towards universal financial inclusion. Indonesia is no exception. With millions of people still unserved or unbanked, digital currencies represent a great opportunity. While in theory a digital rupiah and crypto assets could boost financial inclusion, they should be designed and regulate appropriately if such policy goals are to be met. Otherwise, the risk is to further marginalise people already financially excluded from the formal economy and to incentivise the misuse and abuse of digital assets.
Paper prepared in the framework of the PRODIGEES project.

iaip2224.pdf
Details

Rome, IAI, September 2022, 18 p.

In:


Issue

22|24

ISBN/ISSN/DOI:

978-88-9368-263-3
Introduction
1. Digital rupiah and financial inclusion
2. Driving financial inclusion through crypto assets: Risks and opportunities
Conclusion
References