Brussels–Taipei: Changing the Game?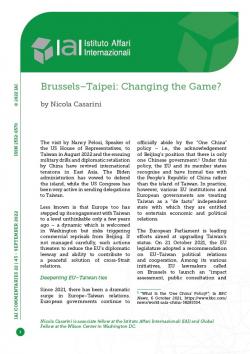 The visit by Nancy Pelosi, Speaker of the US House of Representatives, to Taiwan in August 2022 and the ensuing military drills and diplomatic retaliation by China have revived international tensions in East Asia. The Biden administration has vowed to defend the island, while the US Congress has been very active in sending delegations to Taiwan.

Less known is that Europe too has stepped up its engagement with Taiwan to a level unthinkable only a few years ago – a dynamic which is welcomed in Washington but risks triggering commercial reprisals from Beijing. If not managed carefully, such actions threaten to reduce the EU's diplomatic leeway and ability to contribute to a peaceful solution of cross-Strait relations.

Deepening EU–Taiwan ties

Since 2021, there has been a dramatic surge in Europe–Taiwan relations. European governments continue to officially abide by the "One China" policy – i.e., the acknowledgement of Beijing's position that there is only one Chinese government.[1] Under this policy, the EU and its member states recognise and have formal ties with the People's Republic of China rather than the island of Taiwan. In practice, however, various EU institutions and European governments are treating Taiwan as a "de facto" independent state with which they are entitled to entertain economic and political relations.

The European Parliament is leading efforts aimed at upgrading Taiwan's status. On 21 October 2021, the EU legislature adopted a recommendation on EU–Taiwan political relations and cooperation. Among its various initiatives, EU lawmakers called on Brussels to launch an "impact assessment, public consultation and scoping exercise" for an EU–Taiwan Bilateral Investment Agreement. MEPs also expressed grave concern over China's continued military belligerence and airspace violations, urging the EU to do more to address these tensions, to protect Taiwan's democracy and the island's status as an important EU partner.[2]

In November 2021, a seven-member delegation of the European Parliament led by French MEP Raphael Glucksmann also visited Taiwan. This was the first official delegation dispatched by the European Parliament (EP) to the island. Furthermore, the EP Vice-President Nicola Beer, a German MEP from the Free Democratic Party, visited Taiwan in July 2022 where she met with Taiwan's leader Tsai Ing-wen to discuss the upgrading of relations between the two sides.[3] There are plans for the European Parliament Committee on International Trade to visit Taiwan in December 2022. It would be the first time in history that this Committee – one of the most important in parliament – sends a delegation to Taiwan.

National legislatures have also adopted resolutions and sent – or are planning to send – delegations to Taiwan. For instance, a Committee of the German Bundestag passed a resolution on 9 December 2021 calling on the government in Berlin to reassess its Taiwan policy and deepen exchanges with Taipei. The Petitions Committee of the Bundestag made clear that in light of the rapidly changing international situation, the German government should re-evaluate its stance on Taiwan, including potentially recognising it as a sovereign state.[4]

The German Bundestag's Committee on Human Rights has announced that it will send a delegation of eight lawmakers from six political parties to Taiwan at the end of October 2022.[5] A high-level French Senate delegation visited Taiwan at the beginning of September – the second French senate delegation to visit the island in 2022.[6] The UK's House of Commons Foreign Affairs Committee, meanwhile, is planning a visit to Taiwan in late 2022.[7] Similarly, a delegation of Italian MPs is expected to visit the island by end of 2022.

Lawmakers are not the only ones travelling to the island to show support for Taiwan. Various EU member states have sent – or plan to send – government delegations notwithstanding criticism from Beijing.

In August 2022, a Lithuanian delegation led by vice-minister for transport and communications Agne Vaiciukeviciute visited Taiwan during which it was announced that the Baltic state will open a trade office in Taipei. In response, Beijing imposed sanctions on the Lithuanian politician.[8] Slovenia and the Czech Republic have also voiced criticism of China and strengthened relations with Taiwan – part of a trend of growing negative attitudes towards Beijing coming from Central and Eastern European (CEE) countries. In August 2022, Latvia and Estonia joined Lithuania in abandoning the so-called 16+1 grouping, a format between Beijing and CEE countries established in 2012 as a platform for joint cooperation on infrastructure and development projects.[9]

Western European governments and politicians are also showing increasing support for Taiwan. German Foreign Minister Annalena Baerbock has made various remarks in favour of Taiwan. In August 2022, speaking at a United Nations conference, Baerbock warned China against escalating tensions with Taiwan and expressed support for the island democracy, attracting the ire of Beijing.[10]

Giorgia Meloni, leader of the Italian far-right conservative party Brothers of Italy (Fratelli d'Italia – FdI), met with Andrea Sing-Ying Lee, head of the Taiwan representative office in Rome at the end of July 2022. During the visit, Meloni addressed Mr. Sing-Ying Lee as "the Ambassador of Taiwan", promising that in case she becomes prime minister she would promote Italy–Taiwan relations and play a positive role in advancing wider Brussels–Taipei ties.[11]

Alongside European parliaments and governments, the European Commission is deepening ties with Taiwan in various areas, including information and communication technologies and semiconductors. Brussels has recently opened informal discussions on a scoping exercise with Taipei in view of a bilateral investment treaty, an issue discussed during the last EU–Taiwan Trade and Investment Dialogue which took place on 2 June 2022 in Brussels.[12]

Implications for the United States and China

Europe's growing engagement with Taiwan bolsters the position of the US in its tug-of-war with China. Washington announced that it will launch trade discussions with Taiwan. Called the US–Taiwan Initiative on 21st Century Trade, it was foreshadowed by the White House's Indo-Pacific coordinator, Kurt Campbell, after China increased its military drills across the Taiwan Strait following the visit of Nancy Pelosi at the beginning of August 2022.[13] The US continues to defend the right of lawmakers and officials to visit Taiwan and is pressuring allies to do the same.

As a direct result of the establishment of the EU–US high-level dialogue on the Indo-Pacific in December 2021,[14] transatlantic allies have stepped up coordination on Taiwan. There are plans for a western parliamentary delegation to visit the island – an idea discussed in the context of the Inter-Parliamentary Alliance on China (IPAC) – an international cross-party group of legislators formed in 2020 to work against Beijing and the Commission on Advancing a Free World which comprises of legislators from the US and allies across Europe and Asia.[15] Many of the Commission's and IPAC's members also belong to the NATO Parliamentary Assembly which in recent months has become more vocal in its criticism of Beijing and support for Taiwanese democracy.[16]

European support for Taiwan is important as the number of countries that formally recognise the island has decreased significantly over the past years, raising the question as to whether Europe's activism may help reverse this trend – and what China's response may be.[17] Small EU member states are particularly vulnerable to Chinese commercial reprisals.

The business community is also concerned about the potential backlash from Beijing against European companies, as China remains a very important economic partner for the EU. The bloc's trade deficit with China currently stands at 249 billion euro.[18] As Europe's economic dependency from China grows, will Europe find the necessary strength to continue to deepen ties with Taiwan and resist threats of economic reprisals coming from Beijing? As the case of Ukraine teaches, there is a price to pay for defending freedom and democracy from authoritarian regimes.[19]

Europe's embrace of Taiwan is a positive development since it gives meaning and content to EU commitments to a value-based foreign policy. However, blindly following the harsh US line on China risks reducing Europe's leeway to promote diplomatic initiatives aimed at reducing tensions in the region. Fostering cooperative relations with all Asian nations, including Beijing, is a key pillar of the EU's Indo-Pacific strategy issued in September 2021.[20] Furthermore, the EU Strategic Compass – a plan of action for strengthening the EU's security and defence policy by 2030 adopted in March this year – considers China a competitor, but also a partner.[21] EU documents concerning China and the Indo-Pacific stand in stark contrast to the US which increasingly considers Beijing a major threat to Washington's global primacy.[22]

The challenge ahead for EU policy makers is thus to find a balance between three main dynamics: (i) maintaining the EU's "One China" policy so as to avoid jeopardising relations with Beijing; (ii) continue deepening ties with Taipei, including support for initiatives aimed at deterring a potential future invasion of the island; (iii) avoid the perception of an EU that sides too closly with Washington, so as to keep room for diplomatic manoeuvres.

To do so, the EU should set up a communication channel with Beijing on security in East Asia with the objective of transforming this, over time, into a high-level structured dialogue mechanism that would complement the EU–US high-level dialogue on the Indo-Pacific. China will, of course, continue to perceive Europe as a junior partner of Washington and be wary of EU intentions – while the US may be against such a Sino-European dialogue for fear of losing leverage.

Yet, if the EU wants to be a political actor in East Asia and contribute in earnest to reducing tensions in an area that could easily spiral out of control – and be very damaging for the old continent –, dialogue with China is essential. Europe is rightly embracing Taiwan – it is also time to shake hands with Beijing.


Nicola Casarini is associate fellow at the Istituto Affari Internazionali (IAI) and Global Fellow at the Wilson Center in Washington DC.

[1] "What Is the 'One China' Policy?", in BBC News, 6 October 2021, https://www.bbc.com/news/world-asia-china-38285354.

[2] European Parliament, EU-Taiwan Political Relations and Cooperation (P9_TA/2021/0431), 21 October 2021, https://www.europarl.europa.eu/doceo/document/TA-9-2021-0431_EN.html.

[3] Agence Europe, "European Parliament Vice-President Nicola Beer Calls for Support for Taiwan's Interests during Official Visit", in Europe Daily Bulletin, No. 12996 (20 July 2022), https://agenceurope.eu/en/bulletin/article/12996/24.

[4] German Bundestag, Petition No. 1123/2021: Austausch und Kooperation zwischen Deutschland und Taiwan, 9 December 2021, https://www.bundestag.de/presse/hib/kurzmeldungen-871000.

[5] Chen Cheng-yu, Lu Yi-hsuan and Liu Tzu-hsuan, "German Delegation to Visit Taiwan", in The Taipei Times, 10 August 2022, https://www.taipeitimes.com/News/front/archives/2022/08/10/2003783274.

[6] "Delegation of French Senators Arrives in Taiwan", in France24, 7 September 2022, https://www.france24.com/en/asia-pacific/20220907-delegation-of-french-s....

[7] Vincent Ni, "British MPs Plan Visit to Taiwan as Tension with China Simmers", in The Guardian, 1 August 2022, https://www.theguardian.com/p/mx79f.

[8] Yew Lun Tian, "China Sanctions Lithuanian Deputy Minister for Taiwan Visit", in Reuters, 13 August 2022, https://www.reuters.com/world/china-sanctions-lithuanian-deputy-minister....

[9] Milda Seputyte and Ott Tammik, "Baltic States Abandon East European Cooperation with China", in Bloomberg, 12 August 2022, https://www.bloomberg.com/news/articles/2022-08-11/baltic-states-abandon....

[10] Matthias von Hein, "Germany's China-Taiwan Dilemma", in Deutsche Welle, 5 August 2022, https://p.dw.com/p/4F7yx.

[11] "Giorgia Meloni incontra l'ambasciatore di Taiwan. Il segnale sulla politica estera di governo", in Il Tempo, 26 July 2022, https://www.iltempo.it/politica/2022/07/26/news/giorgia-meloni-fratelli-....

[12] European Commission DG Trade, EU and Taiwan Hold Trade and Investment Dialogue, 2 June 2022, https://europa.eu/!RjfVkd.

[13] US Trade Representative, United States and Taiwan Commence Formal Negotiations on U.S. – Taiwan Initiative on 21st Century Trade, 17 August 2022, https://ustr.gov/about-us/policy-offices/press-office/press-releases/202....

[14] European External Action Service (EEAS), EU-U.S.: Joint Press Release by the EEAS and Department of State on the High-Level Consultations on the Indo-Pacific, Washington, 3 December 2021, https://www.eeas.europa.eu/node/108366.

[15] Atlantic Council website: Commission on Advancing a Free World, https://www.atlanticcouncil.org/?p=258096.

[16] See for instance: Sonia Krimi, NATO and the Indo-Pacific Region, Preliminary Draft Report, NATO Parliamentary Assembly, 24 March 2022, https://www.nato-pa.int/node/324237.

[17] John Feng, "China Fumes as Europe Gets Closer to Taiwan", in Newsweek, 21 October 2021, https://www.newsweek.com/china-fumes-europe-gets-closer-taiwan-1641200.

[18] Eurostat, Significant Increase in EU Imports from China, 1 April 2022, https://europa.eu/!3mH87y.

[19] Jens Stoltenberg, "Nato Will Pay a Price but We Must Stay the Course on Ukraine", in Financial Times, 7 September 2022, https://www.ft.com/content/d5bbd979-ae7e-4125-abcb-16368be3dcaf.

[20] European Commission and EEAS, The EU Strategy for Cooperation in the Indo-Pacific (JOIN/2021/24), 16 September 2021, https://eur-lex.europa.eu/legal-content/en/TXT/?uri=celex:52021JC0024.

[21] Council of the European Union, A Strategic Compass for Security and Defence, 21 March 2022, p. 18, https://www.eeas.europa.eu/node/410976.

[22] See for instance: White House, Indo-Pacific Strategy of the United States, February 2022, https://www.whitehouse.gov/briefing-room/speeches-remarks/2022/02/11/fac....

iaicom2243.pdf
Details

Rome, IAI, October 2022, 5 p.

In:


Issue

22|43