The Belt and Road Initiative and the Internationalisation of China's Scientific Power: The Case of Italy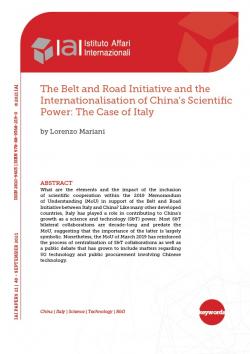 What are the elements and the impact of the inclusion of scientific cooperation within the 2019 Memorandum of Understanding (MoU) in support of the Belt and Road Initiative between Italy and China? Like many other developed countries, Italy has played a role in contributing to China's growth as a science and technology (S&T) power. Most S&T bilateral collaborations are decade-long and predate the MoU, suggesting that the importance of the latter is largely symbolic. Nonetheless, the MoU of March 2019 has reinforced the process of centralisation of S&T collaborations as well as a public debate that has grown to include matters regarding 5G technology and public procurement involving Chinese technology.
Paper prepared in the framework of the IAI project "When Italy Embraces the BRI".

iaip2140.pdf
Details

Rome, IAI, September 2021, 25 p.

In:


Issue

21|40

ISBN/ISSN/DOI:

978-88-9368-219-0 (en); 978-88-9368-221-3 (it)
Introduction
1. China's rise as a global scientific powerhouse
1.1 The international component of China's innovation system
1.2 Scientific cooperation along the Belt and Road
2. Scientific cooperation between Italy and China
2.1 The reach of the Chinese innovation system into Italy
2.2 The BRI and the 2019 S&T agreements: A breakthrough or natural evolution?
2.3 The consequences of the 2019 agreements and the controversies of Chinese technologies in Italy
Conclusion
References