After Kazan, a Defining Moment for the OSCE Minsk Process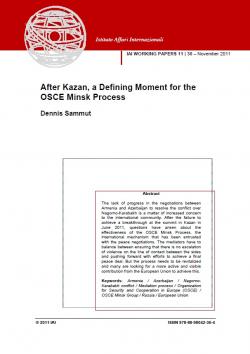 The lack of progress in the negotiations between Armenia and Azerbaijan to resolve the conflict over Nagorno-Karabakh is a matter of increased concern to the international community. After the failure to achieve a breakthrough at the summit in Kazan in June 2011, questions have arisen about the effectiveness of the OSCE Minsk Process, the international mechanism that has been entrusted with the peace negotiations. The mediators have to balance between ensuring that there is no escalation of violence on the line of contact between the sides and pushing forward with efforts to achieve a final peace deal. But the process needs to be revitalized and many are looking for a more active and visible contribution from the European Union to achieve this.
Paper prepared within the framework of the project "Azerbaijan, Caucasus and the EU: Towards Close Cooperation?". Revised version of a paper presented at the seminar on "The Future of Mediation on Nagorno-Karabakh", Rome, 11 July 2011.

iaiwp1130.pdf
Details

Roma, Istituto Affari Internazionali, November 2011, 8 p.

Issue

11|30

ISBN/ISSN/DOI:

978-88-98042-36-4
1. The peace process after the Kazan meeting
2. The international and regional context
3. The role of the European Union