And Then Things Got Complicated: Addressing the Security-Climate-Migration Nexus in South Asia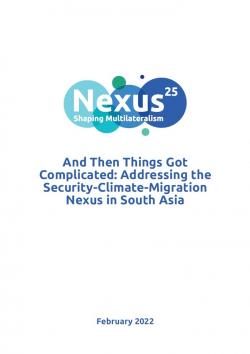 South Asia, particularly India, Bangladesh, and Myanmar, is of great economic and political relevance for the Western Alliance. The area is already experiencing multiple and interrelated harms, including higher temperatures, rising sea levels, and more frequent cyclones. In particular, Myanmar, which shares borders with China, India, Bangladesh, Laos and Thailand, is emerging as the new Nexus test case as it grapples with climate change, migration and political instability. A coup in February 2021 unleashed an armed resistance that has so far displaced hundreds of thousands of people, amid rising hunger, poverty and weather-related losses. It is estimated that in 2022, one in four people will need humanitarian assistance. There are concerns the military junta may expand natural resources exploitation, further degrading ecosystems and worsening climate change. Nexus thinking is crucial to defuse Myanmar's evolving crisis, which could engulf its neighbours, yet regional efforts have so far used traditional siloed approaches.
Paper written as input for the Nexus25 side event at the 2022 Munich Security Conference.

nexus25_southasia.pdf
Details

Rome, IAI, February 2022, 22 p.
South Asia – The first test for Europe's Indo-Pacific strategy
Myanmar: The new Nexus test case
Migration, climate, and security in Myanmar: Need for nexus thinking
Missing in action? Multilateral engagement
The way forward