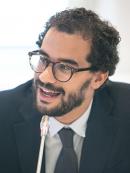 Nicola Bilotta is Researcher at IAI where he works on international political economy, digital economy and geofinance. From 2016 and 2018, he worked as a Research Analyst at The Banker Research Team (Financial Times), with which he still collaborates as analyst. In addition, he was Associate Fellow at the Seven Pillar Institute of Finance & Ethics and researcher at the Istituto di Alti Studi di Geopolitica e Scienze Ausiliarie (IsAG). Nicola holds a BA with honours in History, a MA in Historical Science from the University of Milan and a MSC in Economic History from the London School of Economics and Political Science (LSE).

Nicola Bilotta
Rome, IAI, June 2018, 4 p.
Nicola Bilotta
Roma, IAI, April 2018, 4 p.