What to Expect from the United States: A Look Ahead at US Foreign Policy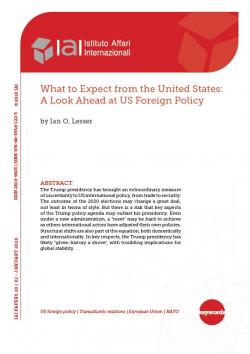 The Trump presidency has brought an extraordinary measure of uncertainty to US international policy, from trade to security. The outcome of the 2020 elections may change a great deal, not least in terms of style. But there is a risk that key aspects of the Trump policy agenda may outlast his presidency. Even under a new administration, a "reset" may be hard to achieve as others international actors have adjusted their own policies. Structural shifts are also part of the equation, both domestically and internationally. In key respects, the Trump presidency has likely "given history a shove", with troubling implications for global stability.

iaip2002.pdf
Details

Rome, IAI, January 2020, 9 p.

In:


Issue

20|02

ISBN/ISSN/DOI:

978-88-9368-122-3
Introduction
1. On the edge of the cliff?
2. Domestic dynamics
3. A different kind of burden-sharing debate
4. A multi-stakeholder world?
5. The end of a hundred-year pivot to Europe?
Conclusion: Is a foreign policy reset possible?