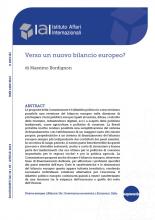 Le proposte della Commissione e il dibattito politico in corso rendono possibile una revisione del bilancio europeo nella direzione di privilegiare i beni pubblici europei (quali sicurezza, difesa, controllo delle frontiere, infrastrutture digitali, ecc.) a scapito delle politiche tradizionali, come agricoltura e politiche di coesione. La Brexit potrebbe inoltre rendere possibile una semplificazione del sistema di finanziamento con l'attribuzione di un maggior ruolo alle risorse proprie, propedeutiche a un sistema di finanziamento del bilancio europeo sempre più indipendente dai contributi dei paesi membri. In un'ottica di lungo periodo, il nostro paese beneficerebbe da questi processi e dovrebbe sostenerli, anche a costo di rinunciare a buona parte dei trasferimenti che ora ottiene per le politiche di coesione (soprattutto per le regioni ricche) e per la politica agricola. La Commissione propone anche di usare il bilancio europeo, attraverso linee di finanziamento dedicate, per affrontare i problemi specifici dei paesi membri dell'euro. Date le caratteristiche e le dimensioni del bilancio europeo questo appare tuttavia irrealistico, rendendo necessario individuare soluzioni alternative per l'eurozona. Il dibattito politico europeo continuerà quindi a essere caratterizzato da una tensione tra le esigenze dell'eurozona e quelle del resto dell'Unione.
Paper prepared in the framework of the project "Quadro finanziario pluriennale dell'Ue 2021-2027. Risorse, strumenti e possibili sviluppi", March 2018. Presented at the conference "Quali priorità per l'Europa del futuro. Il Quadro finanziario pluriennale dell'Unione europea", Rome, 17 April 2018.
Details:
Roma, IAI, April 2018, 13 p.
Introduzione
1. Un bilancio per l'Europa o per l'eurozona?
2. I nodi aperti sul bilancio europeo e le proposte della Commissione
3. Le novità nel bilancio europeo per l'eurozona
Conclusioni e suggerimenti per l'Italia
Riferimenti