Per un'intelligenza artificiale a misura d'uomo: una possibile regolamentazione valoriale?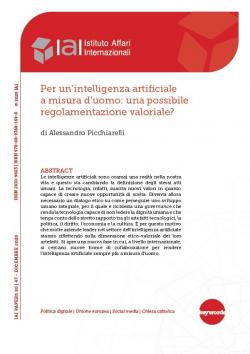 Le intelligenze artificiali sono oramai una realtà nella nostra vita e questo sta cambiando la definizione degli stessi atti umani. La tecnologia, infatti, suscita nuovi valori in quanto capace di creare nuove opportunità di scelta. Diventa allora necessario un dialogo etico su come perseguire uno sviluppo umano integrale, per il quale è richiesta una governance che renda la tecnologia capace di non ledere la dignità umana e che tenga conto dello stretto rapporto tra gli artefatti tecnologici, la politica, il diritto, l'economia e la cultura. È per questo motivo che molte aziende leader nel settore dell'intelligenza artificiale stanno riflettendo sulla dimensione etico-valoriale dei loro artefatti. Si apre una nuova fase in cui, a livello internazionale, si cercano nuove forme di collaborazione per rendere l'intelligenza artificiale sempre più a misura d'uomo.
Paper produced in the framework of the project "La geopolitica del digitale", December 2020.

iaip2047.pdf
Details

Rome, IAI, December 2020, 14 p.

In:


Issue

20|47

ISBN/ISSN/DOI:

978-88-9368-169-8
Introduzione
1. Tecnologia e valori
2. Il Libro bianco sull'intelligenza artificiale della Commissione europea
3. Il Comitato per il controllo di Facebook
4. L'appello Rome Call for AI Ethics
Conclusione
Riferimenti