Turmoil in South America and the Impact on Energy Markets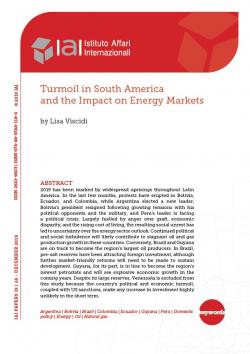 2019 has been marked by widespread uprisings throughout Latin America. In the last few months, protests have erupted in Bolivia, Ecuador, and Colombia, while Argentina elected a new leader, Bolivia's president resigned following growing tensions with his political opponents and the military, and Peru's leader is facing a political crisis. Largely fuelled by anger over graft, economic disparity, and the rising cost of living, the resulting social unrest has led to uncertainty over the energy sector outlook. Continued political and social turbulence will likely contribute to stagnant oil and gas production growth in these countries. Conversely, Brazil and Guyana are on track to become the region's largest oil producers. In Brazil, pre-salt reserves have been attracting foreign investment, although further market-friendly reforms will need to be made to sustain development. Guyana, for its part, is in line to become the region's newest petrostate and will see explosive economic growth in the coming years. Despite its large reserves, Venezuela is excluded from this study because the country's political and economic turmoil, coupled with US sanctions, make any increase in investment highly unlikely in the short term.
Paper prepared in the framework of the IAI-Eni Strategic Partnership, December 2019.

iaip1926.pdf
Details

Rome, IAI, December 2019, 16 p.

In:


Issue

19|26

ISBN/ISSN/DOI:

978-88-9368-118-6
Introduction
1. Resource nationalism and political upheaval cloud the oil and gas investment horizon
1.1 Argentina
1.2 Bolivia
1.3 Ecuador
1.4 Peru
1.5 Colombia
2. Large resources and favourable contract terms: Brazil and Guyana on track for spikes despite regulatory challenges
2.1 Brazil
2.2 Guyana
Conclusion
References