Turkish Foreign Policy after the Elections: Where to from Here?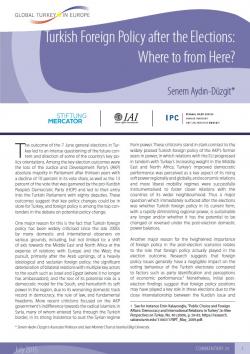 The outcome of the general election in Turkey suggest that key policy changes are upcoming and foreign policy is among the top contenders in the debate on potential policy change. Change seems both necessary and inevitable given the rapidly shifting dynamics in Turkey's wider neighbourhood, the heavy domestic and international criticisms levelled at its recent foreign policy, and the close internal-external linkage reflected in the election outcome. This commentary discusses what is in store for Turkey's foreign policy in light of different post-election constellations.
Paper produced within the framework of the project Turkey, Europe and the World.

gte_c_25.pdf
Details

Roma, IAI, July 2015, 3 p.

Issue

Commentary 25