Turkish-Azerbaijani Energy Relations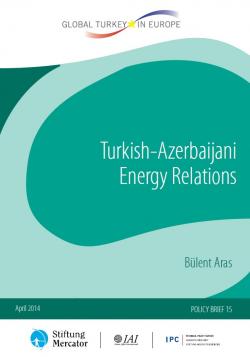 Turkish-Azerbaijani relations are currently taking shape based upon energy relations. This development is based on the two countries' priorities in foreign policy and regional politics, underpinned by the mutual political will to maintain relations at this level. This paper analyzes the evolution of energy cooperation, Turkey's attempt to become an energy hub in the region and Azerbaijan's placement of energy politics as a central component in its foreign policy orientation. It concludes that Azerbaijan increased it leverage in regional energy politics and Turkey took a significant stride forward in terms of shifting from a transit country into an energy hub.
Paper produced within the framework of the project Turkey, Europe and the World.

GTE_PB_15.pdf
Details

Roma, Istituto affari internazionali, April 2014, 6 p.

Issue

Policy brief 15
1. Foreign Policy Trends
2. Relations with Azerbaijan and the Energy Factor
Conclusion
Annex
References