Turkey's Trade in Search of an External Anchor: The Neighbourhood, the Customs Union or TTIP?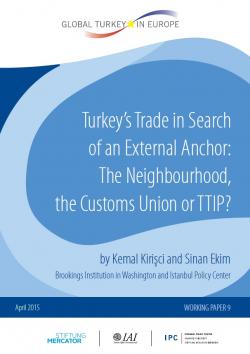 In the course of the last three decades, the Turkish economy experienced a dramatic boom: not only were Turkey's foreign exports on high demand across the EU and in its immediate neighborhood, but Turkey also attracted high volumes of foreign direct investment. Although the signing of the Customs Union with the EU played a critical role in developing Turkey into a major economic power, this period also witnessed a decrease in the percentage of trade with Europe, while trade with the rest of the world picked up. Against the backdrop of the violence in the Middle East and the Ukrainian crisis, however, this picture is quickly changing: whereas Turkish exports to the Middle East have dropped significantly, its trade with the EU is expanding. Meanwhile, Turkey has become stuck in a "middle income trap," and the ruling AKP's promise to transform the Turkish economy into one of the world's ten largest economies by 2023 now seems unlikely. Accordingly, this paper deals with what Turkey could do to set itself on the right track again. It will argue that Turkey needs an external anchor that serves the function fulfilled by the Customs Union during the last two decades. These external anchors could be an upgraded Customs Union, Turkey "docking" to the Transatlantic Trade and Investment Partnership (TTIP), and the conclusion of a free trade agreement between the US and Turkey.
Paper produced within the framework of the project Turkey, Europe and the World.

gte_wp_09.pdf
Details

Roma, Istituto affari internazionali, April 2015, 13 p.

Issue

Working paper 9
Introduction
1. The Significance and Problems of TTIP
2. EU, Turkey and the Customs Union
3. Future Strategies for Turkey
Conclusion
Annex
References