Tunisia's Constitutional Process: Hurdles and Prospects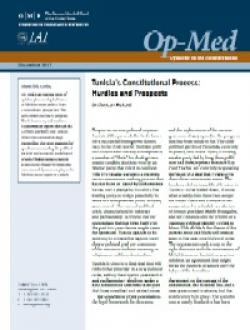 Three unsettled and related issues - the completion of the constitution, the legal framework for elections, and the replacement of the current government - jeopardize progress that has been made in Tunisia's democracy so far. The chief political parties of Ennahda, currently in power, and Nidaa Tunis, a leading secular party led by long-time politician and former prime minister Beji Caid Essebsi, are currently negotiating the terms of a deal that would cover these three contentious issues. The fundamental socio-political tension in Tunisia can be boiled down, if somewhat crudely, into these two camps: for Nidaa Tunis and a return to the progressive, French-style secularism of former president Habib Bourguiba, and for Ennahda and the rebirth of a Tunisian political identity rooted in Islam. This divide is the theme of the current crisis and likely will remain even in the new constitutional order.
Paper produced within the framework of the IAI-GMF strategic partnership.

Op-Med_23.pdf