Trust Building and Regional Identity in Northeast Asia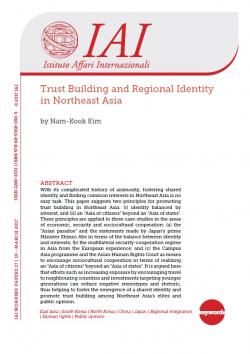 With its complicated history of animosity, fostering shared identity and finding common interests in Northeast Asia is no easy task. This paper suggests two principles for promoting trust building in Northeast Asia: (i) identity balanced by interest, and (ii) an "Asia of citizens" beyond an "Asia of states". These principles are applied to three case-studies in the areas of economic, security and sociocultural cooperation: (a) the "Asian paradox" and the statements made by Japan's prime Minister Shinzo Abe in terms of the balance between identity and interests; (b) the multilateral security-cooperation regime in Asia from the European experience; and (c) the Campus Asia programme and the Asian Human Rights Court as means to encourage sociocultural cooperation in terms of realizing an "Asia of citizens" beyond an "Asia of states". It is argued here that efforts such as increasing exposure by encouraging travel to neighbouring countries and investments targeting younger generations can reduce negative stereotypes and rhetoric, thus helping to foster the emergence of a shared identity and promote trust building among Northeast Asia's elites and public opinion.
Paper presented at the international conference "Trust Building in North East Asia and the Role of the EU" organized in Rome on 21 October 2016 by the Istituto Affari Internazionali (IAI) with the kind support of the Korea Foundation (KF).

iaiwp1710.pdf
Details

Roma, IAI, March 2017, 17 p.

Issue

17|10

ISBN/ISSN/DOI:

978-88-9368-036-3
Introduction: Two principles of trust building in Northeast Asia
1. The "Asian paradox" and East Asian regional integration
2. The Abe statement and inherited responsibility
3. The Helsinki Accords and the multilateral security-cooperation regime in East Asia
4. The possibility of an Asian Court of Human Rights
5. The Campus Asia programme and sociocultural cooperation
Conclusion
References