Trump's Foreign Policy in Asia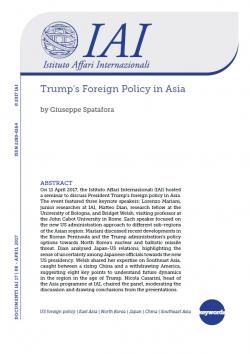 On 11 April 2017, the Istituto Affari Internazionali (IAI) hosted a seminar to discuss President Trump's foreign policy in Asia. The event featured three keynote speakers: Lorenzo Mariani, junior researcher at IAI, Matteo Dian, research fellow at the University of Bologna, and Bridget Welsh, visiting professor at the John Cabot University in Rome. Each speaker focused on the new US administration approach to different sub-regions of the Asian region: Mariani discussed recent developments in the Korean Peninsula and the Trump administration's policy options towards North Korea's nuclear and ballistic missile threat. Dian analysed Japan-US relations, highlighting the sense of uncertainty among Japanese officials towards the new US presidency. Welsh shared her expertise on Southeast Asia, caught between a rising China and a withdrawing America, suggesting eight key points to understand future dynamics in the region in the age of Trump. Nicola Casarini, head of the Asia programme at IAI, chaired the panel, moderating the discussion and drawing conclusions from the presentations.
Report of the seminar on "Trump's Foreign Policy in Asia" organized in Rome on 11 April 2017 by the Istituto Affari Internazionali (IAI).

iai1708.pdf
Details

Roma, IAI, April 2017, 8 p.

In:


Issue

17|08