Towards COP26: Detangling the Knots of Climate Negotiations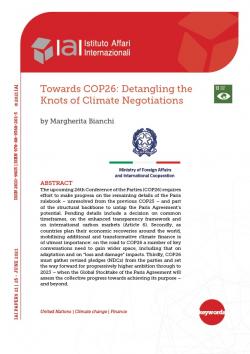 The upcoming 26th Conference of the Parties (COP26) requires effort to make progress on the remaining details of the Paris rulebook – unresolved from the previous COP25 – and part of the structural backbone to untap the Paris Agreement's potential. Pending details include a decision on common timeframes, on the enhanced transparency framework and on international carbon markets (Article 6). Secondly, as countries plan their economic recoveries around the world, mobilising additional and transformative climate finance is of utmost importance: on the road to COP26 a number of key conversations need to gain wider space, including that on adaptation and on "loss and damage" impacts. Thirdly, COP26 must gather revised pledges (NDCs) from the parties and set the way forward for progressively higher ambition through to 2023 – when the Global Stocktake of the Paris Agreement will assess the collective progress towards achieving its purpose – and beyond.
Paper prepared in the framework of the project "Towards the COP26: a 'green recovery' for a sustainable and prosperous world".

iaip2125.pdf
Details

Rome, IAI, June 2021, 22 p.

In:


Issue

21|25

ISBN/ISSN/DOI:

978-88-9368-201-5
Introduction
1. Finalising rules of the Paris regime
2. Incrementing and reorienting climate finance
3. Ramping up global ambition
Conclusions – Looking beyond 2021
References