Tidal Waves? The Political Economy of Populism and Migration in Europe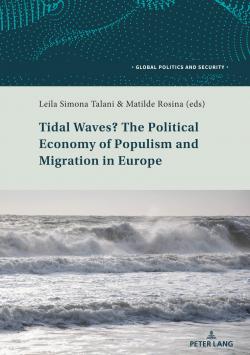 In recent elections across the European Union, parties adopting an anti-immigration stance and making use of populist rhetoric have been gaining electoral breakthrough. Against this backdrop, and in order to contribute to a deeper understanding of the connections binding migration and populism dynamics in Europe, this volume aims to trigger a discussion on the causes and consequences of the rise of populism in Europe, and deconstruct the rhetorical frames it uses to depict migratory flows as an exceptional phenomenon.
Volume published by Jean Monnet Centre of Excellence "Europe in the World" at the Department of European and International Studies of King's College London. Presented in Rome on 16 July 2019.

Flyer
Details

Bern [etc.], Peter Lang, 2019, 222 p. : ill.

Issue

3

ISBN/ISSN/DOI:

978-3-0343-3847-9; 978-3-0343-3873-8 (Pdf); 978-3-0343-3874-5 (ePub); 10.3726/b15963
Introduction: Migration and Populism in Europe / Matilde Rosina, p. 11-25

Part 1: Understanding the Relationship between Migration, Populism and Crisis
1. The Political Economy Roots of the Populist Vote at the Italian 2018 Elections / Leila Simona Talani, p. 29-49
2. Challenging the Mainstream? A Multidimensional Analysis of Political Competition on Immigration and the European Union in Italy / Stella Gianfreda, p. 51-81
3. What It Takes to Become a Crime: Italy and the Criminalisation of Irregular Migration / Matilde Rosina, p. 83-111

Part 2: Deconstructing Populist Discourse on Migration and Crisis
4. Migration and Populism: Marine Le Pen as a Performer of Urgency / Théo Aiolfi, p. 115-150
5. The Securitisation of Migration in Populist Discourse: Emotional and Affective Mechanisms at Play / Donatella Bonansinga, p. 151-172
6. The Italian Far Right at the Crossroads of Populism and Nationalism / Marianna Griffini, p. 173-201

Conclusion
7. The Roots, the Shoots and the Fertiliser: The Securitisation of Migration in an Age of Populism / Margherita de Candia and Cristina Juverdeanu, p. 205-219

Contributors, p. 221-222