Russia's Climate Action and Geopolitics of Energy Transition: The Uncertain and Unsettling Outlook following Russia's Invasion of Ukraine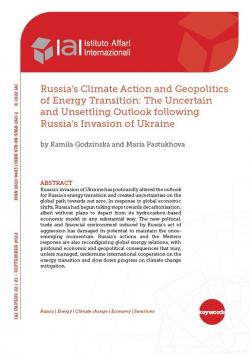 Russia's invasion of Ukraine has profoundly altered the outlook for Russia's energy transition and created uncertainties on the global path towards net zero. In response to global economic shifts, Russia had begun taking steps towards decarbonisation, albeit without plans to depart from its hydrocarbon-based economic model in any substantial way. The new political, trade and financial environment induced by Russia's act of aggression has damaged its potential to maintain the once-emerging momentum. Russia's actions and the Western response are also reconfiguring global energy relations, with profound economic and geopolitical consequences that may, unless managed, undermine international cooperation on the energy transition and slow down progress on climate change mitigation.
Paper produced in the framework of the project "The EU's selective engagement with Russia".

iaip2221.pdf
Details

Rome, IAI, September 2022, 21 p.

In:


Issue

22|21

ISBN/ISSN/DOI:

978-88-9368-260-2
Introduction
1. Russia's pre-war climate and energy agenda: A stock-take
2. Russia's invasion of Ukraine: Its energy transition and climate ambition in a new world
3. Russia and the new geopolitics of climate and energy: A tentative outlook
References