The "Relative" Importance of EMU Macroeconomic Imbalances in the Macroeconomic Imbalance Procedure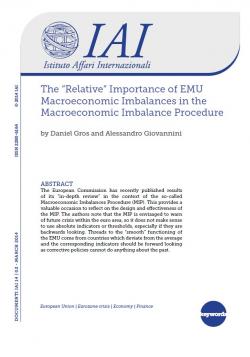 The European Commission has recently published results of its "in-depth review" in the context of the so-called Macroeconomic Imbalances Procedure (MIP). This provides a valuable occasion to reflect on the design and effectiveness of the MIP. The authors note that the MIP is envisaged to warn of future crisis within the euro area, so it does not make sense to use absolute indicators or thresholds, especially if they are backwards looking. Threads to the "smooth" functioning of the EMU come from countries which deviate from the average and the corresponding indicators should be forward looking as corrective policies cannot do anything about the past.
Paper prepared for the Istituto Affari Internazionali (IAI), March 2014.

iai1402.pdf
Details

Roma, Istituto affari internazionali, March 2014, 6 p.

In:


Issue

1402