The Potential and Limits of the European Union as a Mediator in the Dialogue Between Serbia and Kosovo*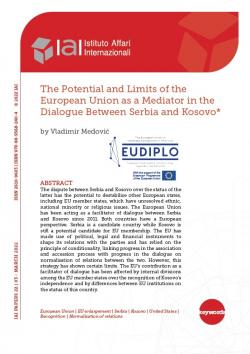 The dispute between Serbia and Kosovo over the status of the latter has the potential to destabilise other European states, including EU member states, which have unresolved ethnic, national minority or religious issues. The European Union has been acting as a facilitator of dialogue between Serbia and Kosovo since 2011. Both countries have a European perspective. Serbia is a candidate country while Kosovo is still a potential candidate for EU membership. The EU has made use of political, legal and financial instruments to shape its relations with the parties and has relied on the principle of conditionality, linking progress in the association and accession process with progress in the dialogue on normalisation of relations between the two. However, this strategy has shown certain limits. The EU's contribution as a facilitator of dialogue has been affected by internal divisions among the EU member states over the recognition of Kosovo's independence and by differences between EU institutions on the status of this country.
Paper produced in the framework of the EUDIPLO network, March 2022.

iaip2203.pdf
Details

Rome, IAI, March 2022, 23 p.

In:


Issue

22|03

ISBN/ISSN/DOI:

978-88-9368-240-4
Introduction
1. International mandate 2. Political instruments: The EU Negotiation Framework with Serbia
3. Legal instruments: The EU stabilisation and association agreements with Serbia and Kosovo
4. Financial instruments
5. Early diplomatic successes
6. Lack of implementation of the agreements
7. Structural weaknesses of the EU as a diplomatic actor
8. Options for a final agreement
Conclusion
References