The OSCE Asian Partnership: Developments and Thematic Priorities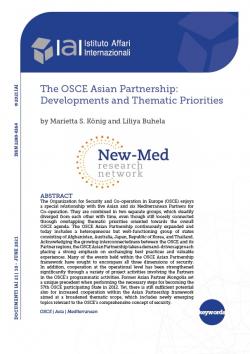 The Organization for Security and Co-operation in Europe (OSCE) enjoys a special relationship with five Asian and six Mediterranean Partners for Co-operation. They are combined in two separate groups, which steadily diverged from each other with time, even though still loosely connected through overlapping thematic priorities oriented towards the overall OSCE agenda. The OSCE Asian Partnership continuously expanded and today includes a heterogeneous but well-functioning group of states consisting of Afghanistan, Australia, Japan, Republic of Korea, and Thailand. Acknowledging the growing interconnectedness between the OSCE and its Partner regions, the OSCE Asian Partnership takes a demand-driven approach placing a strong emphasis on exchanging best practices and valuable experiences. Many of the events held within the OSCE Asian Partnership framework have sought to encompass all three dimensions of security. In addition, cooperation at the operational level has been strengthened significantly through a variety of project activities involving the Partners in the OSCE's programmatic activities. Former Asian Partner Mongolia set a unique precedent when performing the necessary steps for becoming the 57th OSCE participating State in 2012. Yet, there is still sufficient potential also for increased cooperation within the Asian Partnership framework aimed at a broadened thematic scope, which includes newly emerging topics relevant to the OSCE's comprehensive concept of security.
Paper prepared in the context of the New-Med Research Network, June 2021.

iai2110.pdf
Details

Rome, IAI, June 2021, 16 p.

In:


Issue

21|10
Introduction
1. The OSCE Asian Partnership for Co-operation: Framework and mechanisms
2. The Asian Partners: A heterogeneous but well-functioning group
3. Two very different sisters: The Asian and the Mediterranean Partnerships
4. What next for the OSCE Asian Partnership?