North Korea's Covid-19 Outbreak: An Opening for Engagement?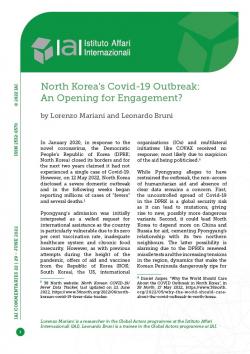 In January 2020, in response to the novel coronavirus, the Democratic People's Republic of Korea (DPRK; North Korea) closed its borders and for the next two years claimed it had not experienced a single case of Covid-19. However, on 12 May 2022, North Korea disclosed a severe domestic outbreak and in the following weeks began reporting millions of cases of "fevers" and several deaths.[1]

Pyongyang's admission was initially interpreted as a veiled request for international assistance as the country is particularly vulnerable due to its zero per cent vaccination rate, inadequate healthcare system and chronic food insecurity. However, as with previous attempts during the height of the pandemic, offers of aid and vaccines from the Republic of Korea (ROK; South Korea), the US, international organisations (IOs) and multilateral initiatives like COVAX received no response; most likely due to suspicion of the aid being politicised.[2]

While Pyongyang alleges to have restrained the outbreak, the non-access of humanitarian aid and absence of clear data remains a concern. First, the uncontrolled spread of Covid-19 in the DPRK is a global security risk as it can lead to mutations, giving rise to new, possibly more dangerous variants. Second, it could lead North Korea to depend more on China and Russia for aid, cementing Pyongyang's relationship with its two northern neighbours. The latter possibility is alarming due to the DPRK's renewed missile tests and the increasing tensions in the region, dynamics that make the Korean Peninsula dangerously ripe for a new period of escalation.[3]

In this context, the EU could attempt to provide and facilitate the supply of vital humanitarian aid to the DPRK. Besides humanitarian and global health risk motivations, the EU could play a more active and independent role in furthering dialogue and trust-building among regional actors, building on the EU's more neutral reputation compared to other local and international actors involved in the Peninsula.

Sanctions and humanitarian assistance

Despite North Korea's continued need for aid, the UN's annual Needs and Priorities Plan for 2020 reports that between 2010 and 2019, humanitarian partners in the DPRK had on average received less than a third of required resources.[4] Alongside Pyongyang's interference and policies impeding the work of IOs and NGOs, the inadequate amount of aid is due to a significant scaling back of official humanitarian assistance provided by states – with the exception of China – since 2009.[5]

This reduction was related to the political distress of donor nations caused by the collapse of negotiating efforts (from the Six-Party Talks to the most recent efforts), and North Korea's ongoing missile and nuclear tests. Indeed, South Korea's 2008 reduction of its significant inter-Korean aid efforts was due to the desire of the then newly-elected conservative president Lee Myung-bak to break with the aid policies of preceding progressive administrations.[6]

The US, on the other hand, politicised food aid by exchanging it with a moratorium on nuclear and missile testing with the 2012 "Leap Day" agreement.[7] The Trump administration only intensified this politicisation by restricting the humanitarian work of IOs and NGOs in North Korea as part of its "maximum pressure" campaign against Nork Korea.

The inadequate financing of humanitarian aid to North Korea (justified on the unfounded fear of aid being diverted to the military) and the linking of such aid to broader foreign policy goals has been criticised as a form of collective punishment, due to its targeting of the population for decisions made by the regime.[8] It also furthers Pyongyang's distrust of international engagements, as witnessed in a July 2021 article published by the North Korean foreign ministry which described US aid as a "sinister political scheme".[9]

A further obstacle to providing humanitarian aid to the DPRK are international sanctions. While these often include humanitarian exceptions, they continue to cause severe negative externalities on aid providers. These include new and complex legal, administrative and financial burdens, delaying the import of aid due to the over-enforcement of sanctions, thereby also obstructing monitoring activities by aid providers.[10] According to the advocacy campaign Korea Peace Now, an estimated 3,968 preventable North Korean deaths occurred in 2018 due to delays, red tape and over-compliance with the sanction's regime.[11]

Additionally, sanctions directly impede the well-being of North Koreans by curbing economic development and weakening public services.[12] For example, the sanctions-imposed limit on fuel imports obstructs the day-to-day operations of hospitals by hampering patient transportation, supply replenishment and the availability of electrical power.[13]

While it is true that sanctions are provoked by the DPRK's own actions and that many of the obstacles for aid are caused by Pyongyang itself, this does not absolve the international community from the obligation of providing humanitarian assistance and preventing sanctions from having negative humanitarian consequences.

During the pandemic, China and Russia strengthened their health diplomacy, especially through the distribution of their domestically developed Covid-19 vaccines.[14] Though offers of the Chinese Sinovac and Russian Sputnik V vaccines were rejected by Pyongyang,[15] reports indicate that limited amounts of Chinese and Russian humanitarian aid did enter North Korea.[16]

Pyongyang's trust in Beijing and Moscow – based on "depoliticised" humanitarian support and their shared opposition to US pressure and sanctions – has contributed to their ability to provide humanitarian assistance. The strengthening of Pyongyang's aid relationship with Beijing and Moscow and its disinterest in collaborating with other states will probably result in North Korea becoming more dependent on its northern neighbours.

What role for the EU?

The EU currently practices a "Critical Engagement" policy towards the DPRK, a carrot-and-stick approach which supposedly attempts to improve human rights through a combination of dialogue and pressure through sanctions. While the EU's unilateral sanctions continue to be strengthened, especially after the establishment of the EU's "Global Human Rights Sanctions Regime",[17] there is currently no dialogue between Brussels and Pyongyang.[18]

Indeed, today, there are no "carrots" on display as EU aid to North Korea has also been steadily decreasing and there is a complete EU ban on trade and investment. This approach has not achieved its goals of denuclearisation and ensuring the respect of human rights in the DPRK, but has instead contributed to worsening North Koreans' access to health and food.

In this context, the EU – without weakening its commitment to sanctions or support for the rules-based international order – could shift strategy and implement measures that can facilitate humanitarian assistance, a noted way to build trust and dialogue with Pyongyang.[19] EU aid is needed as World Health Organisation officials believe the Covid outbreak to be worsening in the country.[20]

While the DPRK has rejected all Western offers of assistance so far, the regime's ideological and long-standing fear of dependence[21] will probably push it to look for alternatives to China and Russia, especially considering its alleged preference for Western mRNA vaccines.[22] Though a multilateral approach would be preferable, the EU should adopt an independent policy (taking advantage of its diplomatic experience and those of member states like Sweden, Norway and Germany) as both Washington and Seoul are instead engaging in an increasing military escalation with Pyongyang.

However, as shown by the US and South Korea, mere declarations of willingness to supply aid are insufficient. To build the trust necessary to directly provide needed assistance, Brussels could consider the following measures: 1) increase funding for the many European NGOs providing humanitarian assistance in the DPRK (without renouncing the monitoring of aid implementation); 2) adopt a more nuanced position on sanctions that recognises and attempts to minimise their negative humanitarian externalities; and 3) assisting the humanitarian work of UN agencies, IOs and NGOs in the DPRK by establishing a stable and transparent channel for financial transactions.

A special banking channel has been requested by humanitarian actors (including UN agencies) working in the DPRK after the only available channel collapsed following UN and US sanctions in 2017.[23] These obstacles have forced aid workers to use unsafe methods to finance their activities, like carrying large amounts of cash, which leads to complications in paying for local staff and structures, and resulted in some projects being closed, thereby eroding trust in the country.[24]

A possible solution could be the establishment of an instrument similar to INSTEX, the EU's special-purpose financial vehicle which has been used to transfer humanitarian aid to Iran.[25] While largely ineffective due to the reach of US primary and secondary sanctions on Iran, INSTEX can still provide a blueprint for similar engagements with North Korea, particularly if the EU can convince the US to display some flexibility in implementing retaliatory measures targeting companies or organisations involved in delivering such aid to North Korea.

Ultimately, the EU should seek to develop and pursue a more independent policy vis-à-vis North Korea and the Peninsula. This would serve its interests in building a more conducive environment for dialogue, while simultaneously working to limit North Korea's increasing dependence on China and Russia, combat global health risks and most importantly provide humanitarian assistance to 25 million North Koreans in need.


Lorenzo Mariani is a researcher in the Global Actors programme at the Istituto Affari Internazionali (IAI). Leonardo Bruni is a trainee in the Global Actors programme at IAI.

[1] 38 North website: North Korean COVID-19/Fever Data Tracker, last updated on 22 June 2022, https://www.38north.org/2022/06/north-korean-covid-19-fever-data-tracker.

[2] Daniel Jasper, "Why the World Should Care About the COVID Outbreak in North Korea", in 38 North, 27 May 2022, https://www.38north.org/2022/05/why-the-world-should-care-about-the-covid-outbreak-in-north-korea.

[3] Lorenzo Mariani and Manuel Herrera, "A Perfect Recipe for the Next Escalation on the Korean Peninsula", in IAI Commentaries, No. 22|23 (May 2022), https://www.iai.it/en/node/15484.

[4] OCHA, DPR Korea Needs and Priorities Plan 2020, April 2020, p. 11, https://dprkorea.un.org/en/node/42877.

[5] Becky Christofferson and Stephan Haggard, "Aid to North Korea: A Survey of Open Source Data", in North Korean Review, Vol. 17, No. 1 (Spring 2021), p. 96-108.

[6] Haewon Lee et al., "The Role of Major Donors in Health Aid to the Democratic People's Republic of Korea", in Journal of Preventive Medicine and Public Health, Vol. 46, No. 3 (May 2013), p. 118-126, https://doi.org/10.3961/jpmph.2013.46.3.118.

[7] Mark E. Manyin and Mary Beth D. Nikitin, "Foreign Assistance to North Korea", in CRS Reports, No. R40095 (2 April 2014), p. 4, https://sgp.fas.org/crs/row/R40095.pdf.

[8] Kee B. Park and Eliana E. Kim, "The Case for Funding the UN's Request for Humanitarian Assistance to the DPRK", in 38 North, 23 October 2018, https://www.38north.org/2018/10/kparkekim102318; Keith Luse, "Newsweek's Misfire on Aid Monitoring in North Korea", in 38 North, 6 December 2021, https://www.38north.org/2021/12/newsweeks-misfire-on-aid-monitoring-in-north-korea.

[9] Kang Hyon Chol, "'Humanitarian Aid' Should Not Be Abused for Sinister Political Purpose", in DPRK Ministry of Foreign Affairs Articles, 11 July 2021, http://www.mfa.gov.kp/view/article/12898.

[10] Kee B. Park, Miles Kim and Jessup Jong, "The Human Costs of UN Sanctions and Funding Shortfalls for Humanitarian Aid in North Korea", in 38 North, 22 August 2019, https://www.38north.org/2019/08/parkkimjong082219.

[11] Henri Féron et al., The Human Costs and Gendered Impact of Sanctions on North Korea, Korea Peace Now, October 2019, p. 12, https://koreapeacenow.org/?p=878.

[12] Ibid., p. 6-20.

[13] Kee B. Park and Edward I. Ham, "North Korea's Surprisingly Robust Healthcare System", in Global Asia, Vol. 16, No. 3 (September 2021), p. 67, https://www.globalasia.org/v16no3/cover/north-koreas-surprisingly-robust-healthcare-system_kee-b-parkedward-i-ham.

[14] Dionis Cenusa, "China, Russia and Covid-19: Vaccine Diplomacy at Different Capacity", in ISPI Commentaries, 7 July 2021, https://www.ispionline.it/en/node/31070.

[15] "North Korea Rejects Offer of Almost Three Million Covid-19 Jabs", in BBC News, 1 September 2021, https://www.bbc.com/news/world-asia-58408913.

[16] Chad O'Carroll, "North Korea Continues to Export Sanctioned Coal, Import Chinese Humanitarian Aid", in NK News, 21 February 2022, https://www.nknews.org/?p=911343; Oliver Hotham, "Russia Ships Rapid Coronavirus Diagnosis Equipment to North Korea: MFA", in NK News, 26 February 2020, https://www.nknews.org/?p=881021.

[17] Eric J. Ballbach, "Moving beyond Targeted Sanctions. The Sanctions Regime of the European Union against North Korea", in SWP Research Papers, No. 4 (February 2022), p. 34, https://doi.org/10.18449/2022RP04.

[18] Ramon Pacheco Pardo, "Pressure and Principles: The EU's Human Rights Sanctions on North Korea", in 38 North, 26 March 2021, https://www.38north.org/2021/03/pressure-and-principles-the-eus-human-rights-sanctions-on-north-korea.

[19] Annika Betancourt, "How US Support for North Korea's Dire Medical System Could Help Build Trust", in Order from Chaos, 20 April 2020, https://brook.gs/3cyZYsM.

[20] Jacob Knutson, "WHO Believes North Korea's COVID Outbreak Is Worsening", in Axios, 1 June 2022, https://www.axios.com/2022/06/01/who-north-korea-covid-outbreak-worsening.

[21] Grace Lee, "The Political Philosophy of Juche", in Stanford Journal of East Asian Affairs, Vol. 3, No. 1 (Spring 2003), p. 105-112, https://drive.google.com/file/d/1UwusGT_X6h1XQZ2188qOS-yLBWU5gl0S/view.

[22] Victor Cha, Katrin Fraser Katz and J. Stephen Morrison, "North Korea's Covid-19 Lockdown. Current Status and Road Ahead", in CSIS Reports, March 2022, https://www.csis.org/node/64338.

[23] Alice Debarre, Making Sanctions Smarter: Safeguarding Humanitarian Action, International Peace Institute, December 2019, p. 6, https://www.ipinst.org/?p=26770.

[24] Ibid., p. 7.

[25] Ankit Panda, "What Can the EU Contribute to Peace on the Korean Peninsula?", in The Diplomat, 22 July 2019, https://thediplomat.com/2019/07/what-can-the-eu-contribute-to-peace-on-the-korean-peninsula.

iaicom2229.pdf
Details

Rome, IAI, June 2022, 5 p.

In:


Issue

22|29