Morocco's Experience of Migration as a Sending, Transit and Receiving Country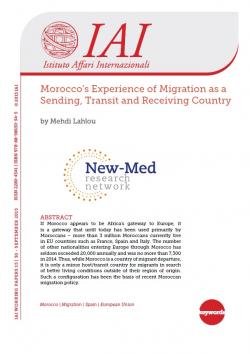 If Morocco appears to be Africa's gateway to Europe, it is a gateway that until today has been used primarily by Moroccans – more than 3 million Moroccans currently live in EU countries such as France, Spain and Italy. The number of other nationalities entering Europe through Morocco has seldom exceeded 20,000 annually and was no more than 7,300 in 2014. Thus, while Morocco is a country of migrant departure, it is only a minor host/transit country for migrants in search of better living conditions outside of their region of origin. Such a configuration has been the basis of recent Moroccan migration policy.
Paper produced within the framework of the New-Med Research Network, June 2015. Presented at the conference on "Changing Migration Patterns in the Mediterranean Region", organised in Tunis on 24 April 2015 by the Istituto Affari Internazionali (IAI), and the Centre of Tunis for Migration and Asylum (CeTuMA).

iaiwp1530.pdf
Details

Roma, IAI, September 2015, 18 p.

Issue

15|30

ISBN/ISSN/DOI:

978-88-98650-54-5
Introduction
1. Moroccan migration policy: first step, the Law of 02/03
   1.1 Overall framework
   1.2 The Law of 02/03
   1.3 Institutional framework
2. Moroccan migration policy, second period: lower migration
3. Moroccan migration policy, third step: managing economic crisis and "Arab spring" effects, under human rights pressure
Conclusion
References