Maritime Scenario in the Mediterranean: Analysis of the Competitiveness and Investments of the Major Logistics Players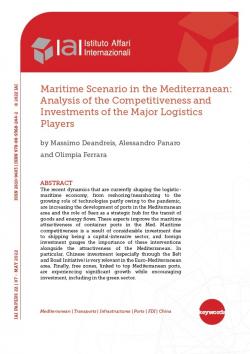 The recent dynamics that are currently shaping the logistic-maritime economy, from reshoring/nearshoring to the growing role of technologies partly owing to the pandemic, are increasing the development of ports in the Mediterranean area and the role of Suez as a strategic hub for the transit of goods and energy flows. These aspects improve the maritime attractiveness of container ports in the Med. Maritime competitiveness is a result of considerable investment due to shipping being a capital-intensive sector, and foreign investment gauges the importance of these interventions alongside the attractiveness of the Mediterranean. In particular, Chinese investment (especially through the Belt and Road Initiative) is very relevant in the Euro-Mediterranean area. Finally, free zones, linked to top Mediterranean ports, are experiencing significant growth while encouraging investment, including in the green sector.
Paper prepared in the framework of the IAI-Eni Strategic Partnership, April 2022.

iaip2207.pdf
Details

Rome, IAI, May 2022, 30 p.

In:


Issue

22|07

ISBN/ISSN/DOI:

978-88-9368-244-2
Highlights
Introduction
1. Recent changes in Mediterranean maritime economy
2. Positioning of Mediterranean countries in maritime connection
3. Maritime connectivity trend in the Mediterranean
4. China in the Euro-Mediterranean area
5. Suez Canal Zone, Tanger Med and Mersin
Conclusions
References