L'evoluzione del quadro politico e le prospettive economiche dei paesi del Consiglio di cooperazione del Golfo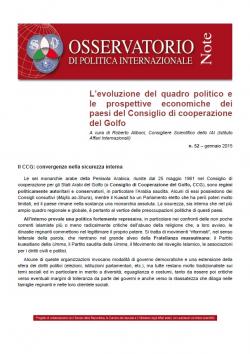 Le sei monarchie arabe della Penisola Arabica, riunite dal 25 maggio 1981 nel Consiglio di cooperazione per gli Stati Arabi del Golfo (o Consiglio di Cooperazione del Golfo, CCG), sono regimi politicamente autoritari e conservatori, in particolare l'Arabia saudita. Alcuni di essi possiedono dei Consigli consultivi (Majlis as-Shura), mentre il Kuwait ha un Parlamento eletto che ha però poteri molto limitati, ed il paese rimane nella sostanza una monarchia assoluta. La sicurezza, sia interna che nel più ampio quadro regionale e globale, è pertanto al vertice delle preoccupazioni politiche di questi paesi.
Paper produced within the framework of the project International Relations Observatory.

pi_n_0052.pdf
Details

Roma, Camera dei deputati, January 2015, 6 p.

Issue

Note 52
Il CCG: convergenze nella sicurezza interna
Differenze nella politica estera
Guerra fredda, rivoluzioni e controrivoluzioni dopo il 2011
Le tensioni nel CCG e la loro proiezione regionale
Le prospettive economiche