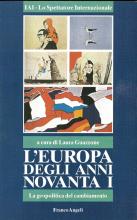 Scritto da storici, giuristi, politologi ed economisti italiani, questo libro è un'indagine sul passato e sul futuro prossimi dell'Europa, considerata nella sua interezza oggi possibile, ma anche nelle sue riemergenti differenziazioni. Dalle prospettive per l'Unione politica ed economica europea ai nazionalismi balcanici, dalla difficile cooperazione tra le due sponde del Mediterraneo ai rapporti tra Europa, Giappone e Stati Uniti, dalla riforma dell'Unione Sovietica alla politica europea dell'Italia, i nove studi raccolti in questo volume indicano le prospettive dell'Europa degli anni Novanta attraverso l'analisi della storia recente delle sue regioni interne e delle sue relazioni con il resto del mondo. Questo libro è dunque rivolto a tutti coloro i quali, studiosi o semplicemente attenti alle vicende della politica internazionale, desiderano poter dare una risposta documentata alla domanda: «Cos'è oggi l'Europa? E cosa sarà domani?». II volume contiene scritti di Maria Valeria Agostini, Federigo Argentieri, Stefano Bianchini, Marco Carnovale, Andrea de Guttry, Ettore Greco, Marinella Neri Gualdesi, Laura Guazzone, Giuseppe Pennisi. Laura Guazzone, responsabile per lo lai del programma Mediterraneo - Medio Oriente, ha curato il progetto di ricerca «Europa '90», di cui questo volume raccoglie la prima parte dei risultati. La seconda parte è presentata, in questa stessa collana, dal volume L'Europa degli anni Novanta. Scenari per un futuro imprevisto, a cura di Cesare Merlini.
Proceedings of the international conference "Europe in the Nineties: Toward a New International Order" organised by the Istituto Affari internazionali (IAI) in Rome on 22-24 November 1990. Published also in English as Europe in the Nineties: Toward a New International Order, special issue of The International Spectator, Vol. 25., No. 4 (October-December 1990).
Details:
Milano, Franco Angeli, October 1991, 327 p.
ISBN/ISSN/DOI:
88-204-7162-0 ; 978-88-204-7162-0
Gli Autori, p. 7-8
Prefazione, p. 9-10
Introduzione, di Laura Guazzone, p. 11-15

1. Il sistema occidentale: Stati Uniti, Europa e Giappone, di Ettore Greco, p. 17-42
2. La Comunità europea e i suoi membri, di Marinella Neri Gualdesi, p. 43-83
3. I paesi dell'Efta e lo spazio economico europeo, di Andrea de Guttry, p. 85-110
4. L'Italia e l'Europa, di Maria Valeria Agostini, p. 111-142
5. L'Europa centro-orientale, di Federigo Argentieri, p. 143-170
6. I Balcani tra rinnovamento e destabilizzazione, di Stefano Bianchini, p. 171-224
7. L'Unione Sovietica e i primi cinque anni di Gorbaciov, di Marco Carnovale, p. 225-268
8. Il Sud del mondo nella sua interrelazione con l'Europa, di Giuseppe Pennisi, p. 269-304
9. Il Mediterraneo e l'Europa comunitaria, di Laura Guazzone, p. 305-327