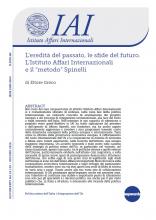 Nel corso dei suoi cinquant'anni di attività l'Istituto Affari Internazionali si è costantemente sforzato di indicare, nelle varie fasi dellla politica internazionale, un orizzonte concreto di avanzamento del progetto europeo e dei processi di integrazione sovranazionale, alla luce del ruolo e degli interessi dell'Italia. Nell'orientare le sue capacità di riflessione e proposta verso quest'obiettivo lo IAI ha tratto ispirazione dal pensiero e dall'operato di Altiero Spinelli, suo fondatore, ma ha anche saputo costantemente aggiornare e rivedere i suoi programmi tenendo conto delle dinamiche emergenti della politica europea e internazionale. Temi come la riforma della governance economica europea, il rafforzamento del ruolo internazionale dell'Ue e la cooperazione in materia di sicurezza e difesa sono venuti assumendo, nelle ricerche dell'Istituto, una sempre maggiore importanza. Un accento crescente è stato posto sulle carenze della strategia di politica estera dell'Ue, in particolare nel vicinato, sul nesso funzionale, spesso trascurato, tra le politiche interne e quelle esterne dell'Unione, particolarmente evidente nell'attuale crisi migratoria, e sulla necessità di aprire nuovi spazi di partecipazione democratica all'interno dell'Unione, che soffre oggi di una grave crisi di legittimità. Agli studi sull'Europa si sono sin dall'inizio affiancati importanti filoni di ricerca sulla cooperazione economica internazionale e sugli sviluppi del partenariato transatlantico, mentre sono via via stati aperti una serie di filoni di ricerca su varie aree e paesi. Grazie anche alla sua vasta rete di collaborazioni internazionali, lo IAI proseguirà quest'impegno anche nei prossimi anni, con l'obiettivo di costituire uno stabile e importante punto di riferimento non solo per gli specialisti e i decisori politici, ma anche per il più vasto pubblico che, in Italia e all'estero, è interessato alle vicende della politica internazionale.
Opening address at the international conference "Building on the Past, Facing the Future. Italian and European Responsibilities in World Affairs", organised in Rome on 13-14 November 2015 on occasion of the 50° anniversary of IAI.
Details:
Roma, IAI, June 2016, 7 p.