Legislation as a Tool for Expanding the Power of the State and Limiting Political and Civil Rights in Modern Russia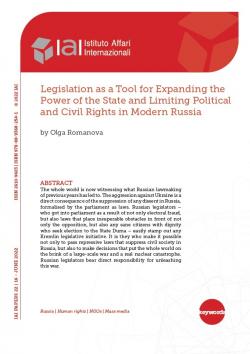 The whole world is now witnessing what Russian lawmaking of previous years has led to. The aggression against Ukraine is a direct consequence of the suppression of any dissent in Russia, formalised by the parliament as laws. Russian legislators – who got into parliament as a result of not only electoral fraud, but also laws that place insuperable obstacles in front of not only the opposition, but also any sane citizens with dignity who seek election to the State Duma – easily stamp out any Kremlin legislative initiative. It is they who make it possible not only to pass repressive laws that suppress civil society in Russia, but also to make decisions that put the whole world on the brink of a large-scale war and a real nuclear catastrophe. Russian legislators bear direct responsibility for unleashing this war.
Paper produced in the framework of the project "The EU's selective engagement with Russia".

iaip2216.pdf
Details

Rome, IAI, June 2022, 11 p.

In:


Issue

22|16

ISBN/ISSN/DOI:

978-88-9368-254-1
1. Brief history of lawmaking as a tool for expanding the power in post-soviet Russia
2. Foreign Agents Law
3. Undesirable Organisations Law
4. Freedom of assembly and protest laws
5. Anti-extremism laws as laws prohibiting the freedom of conscience and free expression of the will
6. "Gay Propaganda" Law
7. Law on Educational Activities
8. Laws of the wartime
Conclusion