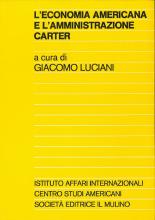 Gli Stati Uniti al momento dell'assunzione dei poteri da parte della amministrazione Carter attraversano una grave crisi costituzionale, proprio nel momento in cui sono in corso di rapida ridefinizione tanto il loro ruolo internazionale che gli indirizzi fondamentali del loro modello di sviluppo interno. Carter ha promesso di portare l'economia americana fuori da questa crisi che è la peggiore che gli Stati Uniti abbiano sperimentato in questo dopoguerra. Gli scritti che sono raccolti in questo volume e che tentano di fare il punto sulle probabilità di riuscita di questo sforzo e sui vari aspetti della politica economica americana, sono di: Richard Gardner, Pierluigi Ciocca, Paolo Sylos Labini, Vittorio Juker, Giuseppe Sacco, Vittorio Valli, George France, John Palmer, Giuseppe Tullio, Mauro Michelangeli, Nicola Acocella, James P. Grant, Piero Bassetti, Marcello De Cecco, Marcello Colitti.
Revised version of the papers presented at the seminar organised in Rome in November 1977 by the Centro Studi Americani.
Details:
Bologna, Il mulino, December 1978, 183 p.
lntroduzione, di Giacomo Luciani, p. 7-19

Parte prima: Considerazioni generali
Prolusione, di Richard Gardner, p. 23-27
L'economia americana e la crisi degli anni '70, di Pierluigi Ciocca, p. 29-37

Parte seconda: I problemi interni
I profitti dell'industria, di Paolo Sylos Labini, p. 41-48
I problemi dell'energia, di Vittorio Jucker, p. 49-62
La difesa dell'ambiente tra opinione «ecologica» e interessi industriali, di Giuseppe Sacco, p. 63-80
«Trends» del mercato del lavoro in America negli anni '70, di Vittorio Valli, p. 81-88
Consenso sociale e pareggio del bilancio, di George France, p. 89-100
La problematica del bilancio federale, di John Palmer, p. 101-105
La politica monetaria statunitense durante la presidenza Carter, di Giuseppe Tullio, p. 107-121

Parte terza: I problemi internazionali
Il dollaro e il sistema monetario internazionale, di Mauro Michelangeli, p. 125-136
Il ruolo delle imprese multinazionali, di Nicola Acocella, p. 137-146
L'amministrazione Carter e il nuovo ordine economico internazionale, di James P. Grant, p. 147-161
Lo squilibrio Nord-Sud: problemi e risposte del mondo occidentale, di Piero Bassetti, p. 163-167
Liberismo o neoprotezionismo?, di Marcello De Cecco, p. 169-176

Conclusioni: Carter è il nuovo Roosevelt?, di Marcello Colitti, p. 179-183