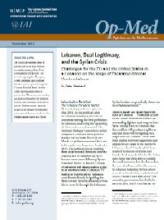 As the political crisis in Lebanon continues, the level of consensus among the rival politicians in Lebanon concerning the upcoming election is at a very low point. At the same time, the political unrest resulting from deep national divisions over the ongoing war in neighboring Syria have became more tense. There is hardly any doubt that both sides in Lebanon - Hezbollah as well as the Future Movement alliance - are sending fighters and weapons into Syria, raising fears in Lebanon that the conflicts will produce a spillover.
Paper produced within the framework of the IAI-GMF strategic partnership.
Details:
Washington, German Marshall Fund of the United States, 2013, 3 p.