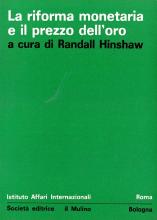 I problemi del prezzo dell'oro e della riforma del sistema monetario internazionale, oggetto da anni di un vivo dibattito a livello mondiale, costituiscono oggi, con la crisi del franco francese, che segue di poco la svalutazione della sterlina, e con le inevitabili ripercussioni sul piano della cooperazione monetaria internazionale, un argomento di estrema attualità. I rapporti commerciali e finanziari che intercorrono fra le maggiori nazioni non sono equilibrati. Un tempo i trasferimenti dell'oro da un paese all'altro permettevano, almeno in teoria, un aggiustamento automatico sia del dare e dell'avere sia anche dei rispettivi sistemi economici nazionali, costretti per tal via a seguire una politica di equilibrio internazionale. Oggi questo meccanismo non è più in funzione. Quello che lo ha sostituito utilizza il dollaro quale veicolo dei pagamenti internazionali e strumento nella formazione delle riserve ufficiali. Ma esso non è automatico né, secondo alcuni, sarà mai in condizione di funzionare con efficacia. Si cercano pertanto soluzioni nuove, che si vogliono dagli uni non dolorose, ma soprattutto che non siano peggiori del male, potendo sfociare, secondo altri, in una grande crisi mondiale. Questo Quaderno dell'IAI contiene una sintesi attuale ed efficace delle varie alternative proposte da alcuni dei maggiori economisti ed esperti di politica monetaria internazionale, quali Lord Robbins, Jacques Rueff, Robert Triffin, Edward M. Bernstein ed altri ancora.
Translation of Monetary Reform and the Price of Gold. Alternative Approaches, Baltimore, The Johns Hopkins Press, 1967. Italian edition edited by Mario Del Viscovo.
Details:
Bologna, Il mulino, November 1968, 174 p.
Prefazione all'edizione italiana, di Mario Del Viscovo, p. 5-13
Premessa, di C. Grove Haines, p. 17-18
I. lntroduzione, di Randall Hinshaw, p. 19-24
II. Procedure e alternative, di Lord Robbins, p. 25-41
Ill. La liquidità internazionale: la situazione attuale, di Milton Gilbert, p. 43-51
IV. Il punto di vista di Rueff, di Jácques Rueff, p. 53-61
V. Il punto di vista di Triffin, di Robert Triffin, p. 63-68
VI. Il punto di vista di Bernstein, di Edward M. Bernstein, p. 69-87
VII. Scambio di vedute, di Edward M. Bernstein, Jácques Rueff, Robert Triffin, p. 89-107
VIII. Il «gold-exchange standard» e il prezzo dell'oro, di Otmar Emminger, p. 109-118
IX. Il prezzo dell'oro e il livello delle riserve auree mondiali, di William J. Busschau, Donald H. McLaughlin, Michael Spieler, p. 119-128
X. L'oro e la riforma: altri punti di vista, di J.E. Meade, John Exter, Giovanni Magnifico, Robert A. Mundell, Gardner Patterson, Maurice Allais, Pllilip Cortney, p. 129-147
XI. Osservazioni conclusive, di Lord Robbins, Jácques Rueff, Edward M. Bernstein, Robert Triffin, p. 149-174