La politica libica dell'Italia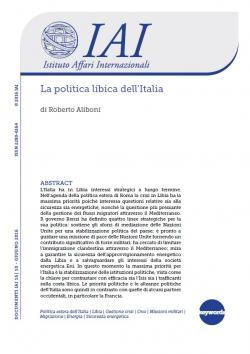 L'Italia ha in Libia interessi strategici a lungo termine. Nell'agenda della politica estera di Roma la crisi in Libia ha la massima priorità poichè interessa questioni relative sia alla sicurezza sia energetiche, nonché la questione più pressante della gestione dei flussi migratori attraverso il Mediterraneo. Il governo Renzi ha definito quattro linee strategiche per la sua politica: sostiene gli sforzi di mediazione delle Nazioni Unite per una stabilizzazione politica del paese; è pronto a guidare una missione di pace delle Nazioni Unite fornendo un contributo significativo di forze militari; ha cercato di limitare l'immigrazione clandestina attraverso il Mediterraneo; mira a garantire la sicurezza dell'approvvigionamento energetico dalla Libia e a salvaguardare gli interessi della società energetica Eni. In questo momento la massima priorità per l'Italia è la stabilizzazione delle istituzioni politiche, vista come la chiave per contrastare con efficacia sia l'Isis sia i trafficanti sulla costa libica. Le priorità politiche e le alleanze politiche dell'Italia sono quindi in contrasto con quelle di alcuni partner occidentali, in particolare la Francia.
Paper prepared by the Istituto Affari Internazionali (IAI) on behalf of the Friedrich Ebert Foundation-Rome Office, June 2016. German translation: Italiens Libyenpolitik. Zwischen Krisenmanagement und strategischen Interessen, Berlin, Friedrich-Ebert-Stiftung, Referat Westeuropa/Nordamerika, Juni 2016, 6 p. (Perspektive FES Rom), ISBN 978-3-95861-502-1.

iai1610.pdf
Details

Roma, IAI, June 2016, 9 p.

In:


Issue

16|10
1. Una lunga tradizione di relazioni bilaterali
2. Nuova fase con il governo Renzi
3. Sostegno italiano alla mediazione delle Nazioni Unite
4. La posizione italiana sull'intervento militare
5. Contrasto all'immigrazione illegale e sicurezza energetica
Conclusioni