La governance globale dei dati e la sovranità digitale europea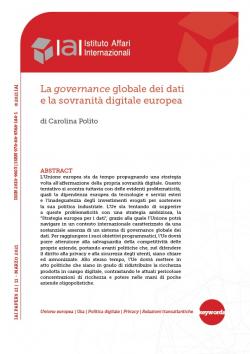 L'Unione europea sta da tempo propugnando una strategia volta all'affermazione della propria sovranità digitale. Questo tentativo si scontra tuttavia con delle evidenti problematicità, quali la dipendenza europea da tecnologie e servizi esteri e l'inadeguatezza degli investimenti erogati per sostenere la sua politica industriale. L'Ue sta tentando di sopperire a queste problematicità con una strategia ambiziosa, la "Strategia europea per i dati", grazie alla quale l'Unione potrà navigare in un contesto internazionale caratterizzato da una sostanziale assenza di un sistema di governance globale dei dati. Per raggiungere i suoi obiettivi programmatici, l'Ue dovrà porre attenzione alla salvaguardia della competitività delle proprie aziende, portando avanti politiche che, nel difendere il diritto alla privacy e alla sicurezza degli utenti, siano chiare ed armonizzate. Allo stesso tempo, l'Ue dovrà mettere in atto politiche che siano in grado di ridistribuire la ricchezza prodotta in campo digitale, contrastando le attuali pericolose concentrazioni di ricchezza e potere nelle mani di poche aziende oligopolistiche.
Study produced as part of the project "La geopolitica del digitale", March 2021.

iaip2111.pdf
Details

Rome, IAI, March 2021, 11 p.

In:


Issue

21|11

ISBN/ISSN/DOI:

978-88-9368-184-1
Introduzione
1. La definizione di sovranità digitale
2. Gli ostacoli al raggiungimento della sovranità digitale europea
2.1 La dipendenza da tecnologie e servizi digitali esteri
2.2 L'insufficienza degli investimenti
3. La strategia europea e Gaia-X
4. L'assenza di una governance globale dei dati
5. L'imprescindibilità del modello multi-stakeholder
Conclusioni
Riferimenti