Italy and Norway: Perspectives for a Further Energy Cooperation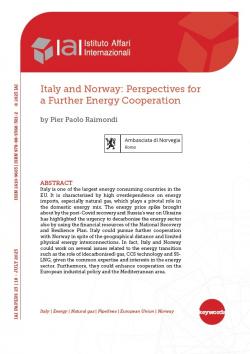 Italy is one of the largest energy consuming countries in the EU. It is characterised by high overdependence on energy imports, especially natural gas, which plays a pivotal role in the domestic energy mix. The energy price spike brought about by the post-Covid recovery and Russia's war on Ukraine has highlighted the urgency to decarbonise the energy sector also by using the financial resources of the National Recovery and Resilience Plan. Italy could pursue further cooperation with Norway in spite of the geographical distance and limited physical energy interconnections. In fact, Italy and Norway could work on several issues related to the energy transition such as the role of (decarbonised) gas, CCS technology and SS-LNG, given the common expertise and interests in the energy sector. Furthermore, they could enhance cooperation on the European industrial policy and the Mediterranean area.
Paper produced in the framework of the project "Italy and Norway: improving cooperation to face common challenges".

iaip2318.pdf
Details

Rome, IAI, July 2023, 20 p.

In:


Issue

23|18

ISBN/ISSN/DOI:

978-88-9368-301-2
Introduction
1. Overdependence on fossil fuels and imports
2. The Italian energy transition: Targets and challenges
3. Adjusting the institutional framework
4. Recovery funds: An opportunity to boost energy transition
5. Takeaways for Norway and potential avenues for cooperation
References
List of acronyms