Italians and Official Development Assistance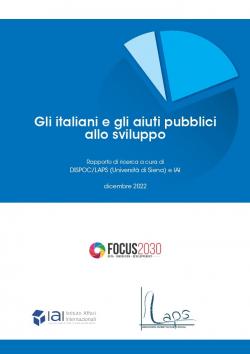 What is the general knowledge of Italians on Italy's development cooperation policy? What is their support for Official Development Assistance? How do they think public funds earmarked for cooperation are spent? How does their support relate to their involvement in solidarity activities with developing countries?
This report illustrates the results of the questionnaire on Italians and Italian development cooperation, included in the 2022 edition of the annual opinion survey conducted by the IAI – as part of the strategic partnership with the Compagnia di San Paolo Foundation – and by the Political and Social Analysis Laboratory (LAPS) of the University of Siena.

laps-iai_2022_aps_en.pdf
Details

Rome, IAI, December 2022, 12 p.