The Impact of the EU-Turkey Statement on Protection and Reception: The Case of Greece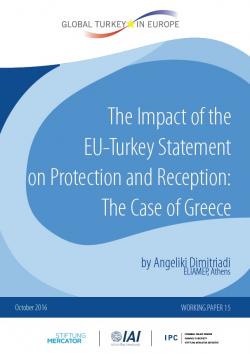 The EU-Turkey Statement of 18 March has had significant repercussions for Greece, an already overburdened and capacity-lacking member state. The implementation of the Statement resulted in delays in both asylum processing and returns to Turkey. It also resulted in two separate asylum procedures for those on the mainland and in the islands, sub-standard conditions for those stranded on the islands and differentiated treatment of nationalities. The paper looks at the core of the Statement, the notion of "safe third country" but also protection and the challenge of implementation. The paper further discusses the legal changes and practical challenges of implementing the Statement not only about asylum but also reception capacity and standards.
Paper presented at the workshop "The EU-Turkey Deal and its Implications for the Asylum Capacities of EU Border Countries", organised in Athens on 4 November 2016 by the Istituto Affari Internazionali (IAI) in collaboration with Mercator European Dialogue (MED) in the framework of the project Global Turkey in Europe.

gte_wp_15.pdf
Details

Roma, IAI, October 2016, 9 p.

Issue

Working Papers 15
Introduction
1. Burden sharing and the notion of protection
2. The EU-Turkey Statement and the "safe third country" notion
3. The implementation challenges of the EU-Turkey statement
3.1 Determination procedure and returns
3.2 Reception conditions: lowering of standards
Concluding thoughts
References