Immigration Policy in Italy: Problems and Perspectives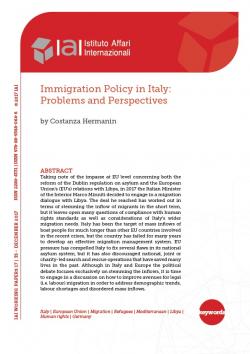 Taking note of the impasse at EU level concerning both the reform of the Dublin regulation on asylum and the European Union's relations with Libya, in 2017 the Italian Minister of the Interior Marco Minniti decided to engage in a migration dialogue with Libya. The deal he reached has worked out in terms of stemming the inflow of migrants in the short term, but it leaves open many questions of compliance with human rights standards as well as considerations of Italy's wider migration needs. Italy has been the target of mass inflows of boat people for much longer than other EU countries involved in the recent crises, but the country has failed for many years to develop an effective migration management system. EU pressure has compelled Italy to fix several flaws in its national asylum system, but it has also discouraged national, joint or charity-led search and rescue operations that have saved many lives in the past. Although in Italy and Europe the political debate focuses exclusively on stemming the inflows, it is time to engage in a discussion on how to improve avenues for legal (i.e. labour) migration in order to address demographic trends, labour shortages and disordered mass inflows.
Paper prepared by the Istituto Affari Internazionali (IAI) on behalf of the Friedrich Ebert Foundation-Rome Office, November 2017. Published also in German: Einwanderungspolitik in Italien. Probleme und Perspektiven, Rom, Friedrich-Ebert-Stiftung, Dezember 2017, 10 p.

iaiwp1735.pdf
Details

Roma, IAI, December 2017, 15 p.

Issue

17|35

ISBN/ISSN/DOI:

978-88-9368-064-6
Introduction
1. The struggle to reform Italy's asylum system
2. The high seas and the countries of transit
3. Kein Einwanderungsland? Between denial and unpreparedness
Conclusion
References