Il Regno Unito post-Brexit tra Ue e Usa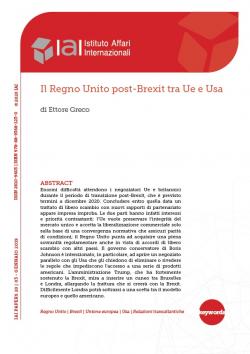 This essay delves into the transatlantic dimension of Brexit. The author warns that EU and UK negotiators will soon face the almost impossible task of striking a new free trade agreement before the post-Brexit transition period ends in December 2020, not least given the incompatibility of the two parties' main priorities: the integrity of the single market for the EU and full regulatory sovereignty for the UK. The pressure from the US for the UK to ease regulations will make things even more complicated, as US demands are incompatible with EU rules.
Excerpt from Focus euroatlantico, n. 13 (ottobre 2019-gennaio 2020), p. 35-42.

iaip2003.pdf
Details

Rome, IAI, January 2020, 10 p.

In:


Issue

20|03

ISBN/ISSN/DOI:

978-88-9368-123-0
Introduzione
1. Corsa contro il tempo
2. Un accordo difficile
3. I nodi del negoziato Gb-Ue
4. Il negoziato Gb-Usa