I partiti moderati e conservatori europei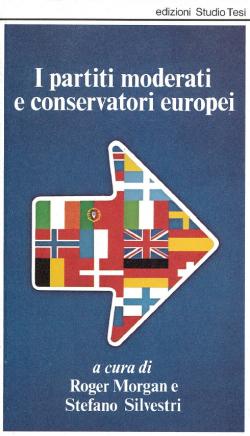 «La costruzione europea è divenuta una realta complessa, nazionale ed internazionale». Sono ancora capaci i "conservatori illuminati" della necessaria flessibilità e di una concreta visione di governo, per aftrontare non solo il problema della "costruzione europea" ma anche di gestione del la politica europea? Ecco, dunque, raccolte in questo Iibro, le relazioni di noti politologi sulle scelte fatte dai partiti moderati e conservatori europei, sia in politica interna che estera, tese a trovare un equilibrio tra i due blocchi contrapposti degli Stati Uniti e dell'Unione Sovietica, in un momento di recessione, crisi energetica e pericolo di destabilizzazione mondiale.
Results of a research project conducted by the Istituto Affari Internazionali (IAI) and the Policy Studies Institute (PSI). Published also in English as Moderates and Conservatives in Western Europe. Political Parties, the European Community and the Atlantic Alliance, London, Heinemann Educational Books, December 1982.
Introduzione di Stefano Silvestri, p. vii-xix
L'Rpr e l'Occidente: la difficoltà di essere gollista quando il gollismo diventa universale, di Jean Charlot, p. 3-27
La politica internazionale dell'Udf, di Jacques Mallet, p. 29-39
La politica europea dei cristiano-democratici tedeschi (Cdu/Csu), di Werner Weidenfeld, p. 41-61
Il Partito conservatore, la politica estera britannica e i problemi euro-atlantici, di Richard Rose, p. 63-92
I liberali in Francia, Germania, Gran Bretagna e Italia: posizioni internazionali e collaborazione reciproca, di Michael Steed, p. 95-140
Elementi per un'analisi della politica estera della Democrazia cristiana, di Gianfranco Pasquino, p. 143-179
I partiti di centro spagnoli: le dimensioni europea ed atlantica, di Antonio Marquina Barrio, p. 181-203
Difesa atlantica, Est ed Ovest, di Pierre Hassner, p. 205-221
Politiche economiche dei partiti moderati europei, di Wolfgang Wessels, p. 223-245
Cooperazione tra cristiano-democratici e conservatori, di Beate Kohler e Barbara Myrzik, p. 247-279
Il Rassemblement pour la République, di Antonio Pilati, p. 281-296
L'Union pour la democratie française, di Antonio Pilati, p. 299-315
L'Unione cristiano-democratica (Cdu) e l'Unione cristiano-sociale (Csu) di Germania, di Christian Hacke, p. 317-323
Il Partito conservatore, di Anthea Lee, p. 325-341
Democrazia cristiana, di Antonio Pilati, p. 343-360
L'Unione del centro democratico, di Manuel Ramirez, p. 363-371