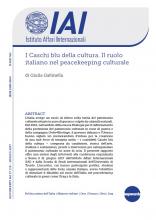 L'Italia svolge un ruolo di rilievo nella tutela del patrimonio culturale situato in zone di guerra o colpite da calamità naturali. Nel 2016, nell'ambito della nuova Strategia per il rafforzamento della protezione del patrimonio culturale in zone di guerra e della campagna Unite4Heritage, il governo italiano e l'Unesco hanno siglato un memorandum d'intesa per la creazione di una task force di sessanta unità – i cosiddetti Caschi blu della cultura – composta da carabinieri, storici dell'arte, studiosi e restauratori, pronti a intervenire per salvaguardare il patrimonio culturale in zone di crisi. Il presente rapporto offre una sintesi degli interventi alla conferenza organizzata a Roma il 21 giugno 2017 dall'Istituto Affari Internazionali (IAI) e dalla Scuola di Studi internazionali dell'Università di Trento. L'incontro, cui hanno partecipato politici, studiosi e rappresentanti delle forze armate italiane, aveva l'obiettivo di stimolare il dibattito sul ruolo dell'Italia nel peacekeeping culturale in paesi come l'Iraq e la Siria.
Report of the conference organized in Rome on 21 June 2017 by the Istituto Affari Internazionali (IAI) in cooperation with the School of International Studies - University of Trento.
Details:
Roma, IAI, July 2017, 8 p.