Gas Crisis in Europe: A Harbinger of Sustainable Cooperation with North Africa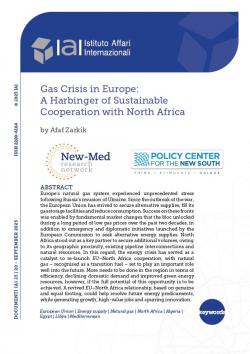 Europe's natural gas system experienced unprecedented stress following Russia's invasion of Ukraine. Since the outbreak of the war, the European Union has strived to secure alternative supplies, fill its gas storage facilities and reduce consumption. Success on these fronts was enabled by fundamental market changes that the bloc unlocked during a long period of low gas prices over the past two decades, in addition to emergency and diplomatic initiatives launched by the European Commission to seek alternative energy supplies. North Africa stood out as a key partner to secure additional volumes, owing to its geographic proximity, existing pipeline interconnections and natural resources. In this regard, the energy crisis has served as a catalyst to re-launch EU–North Africa cooperation, with natural gas – recognised as a transition fuel – set to play an important role well into the future. More needs to be done in the region in terms of efficiency, declining domestic demand and improved green energy resources, however, if the full potential of this opportunity is to be achieved. A revived EU–North Africa relationship, based on genuine and equal footing, could help resolve future energy predicaments, while generating growth, high-value jobs and spurring innovation.
Revised version of a paper presented at the international conference "Connectivity, Value Chains and The Green Transition: Promoting Multilateralism and Sustainable Growth Across the Shared Mediterranean Space", held in Rabat on 2 November 2022 and co-organised by the Istituto Affari Internazionali (IAI) and the Policy Center for the New South (PCNS) in the context of the New-Med Research Network.

iai2320.pdf
Details

Rome, IAI, September 2023, 22 p.

In:


Issue

23|20
Introduction
1. Russian gas cut-offs and the EU's emergency responses
1.1 The EU's emergency demand side measures and solidarity agreements
1.2 The EU's emergency storage and supply diversification strategy
2. North Africa: A strategic hub for gas cooperation
3. Green energy integration and cooperation in the Mediterranean
Conclusion and recommendations
References