The Future of the EU – the Role of Climate and Energy Policies. Conclusions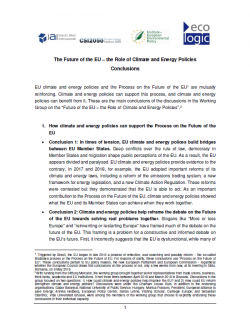 In response to Brexit, the EU embarked on a process of reflection and possibly reform, the so-called Bratislava Process or the Process on the Future of Europe. At its meeting on 9 May 2019, the European Council is expected to draw first conclusions. As a contribution to this process, the Ecologic Institute, the Istituto Affari Internazionali, the Institute of European Environment Policies and the Climate Strategy Institute 2050 offer a number of recommendations to EU policy makers on how EU climate policies can support this process, and on how climate policies can benefit from it.
Details

Berlin, Ecologic Institute, 2019, 4 p.