Fragility and Resilience in Iraq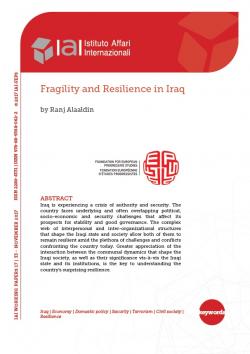 Iraq is experiencing a crisis of authority and security. The country faces underlying and often overlapping political, socio-economic and security challenges that affect its prospects for stability and good governance. The complex web of interpersonal and inter-organizational structures that shape the Iraqi state and society allow both of them to remain resilient amid the plethora of challenges and conflicts confronting the country today. Greater appreciation of the interaction between the communal dynamics that shape the Iraqi society, as well as their significance vis-à-vis the Iraqi state and its institutions, is the key to understanding the country's surprising resilience.
Paper produced in the framework of a project entitled "The EU's New Resilience Agenda in the MENA Region", November 2017.

iaiwp1733.pdf
Details

Roma, IAI, November 2017, 15 p.

Issue

17|33

ISBN/ISSN/DOI:

978-88-9368-062-2
Introduction
1. Resilience to what? Corruption, governance and security challenges
2. Iraqi society fights back
3. Moving forward
References