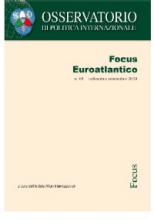 L'accordo nucleare tra Iran e P5+1. Un contributo alla sicurezza della regione o un "errore storico"?, di Riccardo Alcaro
L'evoluzione dei rapporti tra Stati Uniti ed Europa, giugno-settembre 2013, di Giordano Merlicco
La Serbia sempre più vicina all'Europa, di Andrea Cellino
Aspetti euroatlantici del contrasto alla pirateria, di Fabio Caffio
Paper produced within the framework of the project International Relations Observatory .
Details:
Roma, Senato, 2013, 28 p.